Perhaps you have landed here because you have just installed the Yoast SEO plugin and you do not know very well how to create sitemap WordPress . Or perhaps you have been told that the Yoast plugin is a WordPress plugin with which you can  know quickly how to create sitemap WordPress and improve the SEO of your website.
And the truth is that yes, it is a plugin that has many advantages and one of them is that you can easily create sitemap in WordPress.
And no, I don't get any commission for talking about it (it's always good to say this).
Well, by the time you finish reading this post, you probably won't become a sitemap expert, but you will be able to create your sitemap with this WordPress plugin with your eyes closed.
One of the things that this plugin has is that it is very easy and "quick" to configure (if you know how to do it) and above all, creating sitemaps with this Yoast is really simple.
We will see it quickly, we are not going to expand on SEO issues and we are not going to go deep. Our goal here is how to create sitemap in WordPress with WordPress SEO correctly and at full speed!
The first thing we have to know is that a sitemap or site map is a file where all the pages of a website are listed . As its name indicates, it acts as a web map and also indicates the hierarchy of the urls of your entire site .
Typically, this file is located in the root directory and is in XML format. This information is not really necessary if you use WordPress, although it never hurts to know.
As a general rule, we can see this sitemap through the following url:
Blogging-guides.com/sitemap.xml
What is an XML Sitemap?
An XML sitemap is a file that lists all of your website's content in an XML format, so search engines like Google can easily discover and index your content.
In the early 2000s, government websites used a link titled "Site Map" on their main pages. This page usually contains a list of all the pages on that website
Today, sitemaps are published in XML format rather than HTML, and their target audience is search engines, not people.
Basically, an XML sitemap is a way for website owners to tell search engines about all the pages on their website
It also tells search engines which links on your website are more important than others and how often you update your website
While XML sitemaps won't improve your search engine rankings, they allow search engines to better crawl your website. This means they can find more content and start showing it up in search results, sometimes resulting in higher rankings.
Why do you need an XML sitemap?
Sitemaps are very important from a Search Engine Optimization (SEO) point of view.
Simply adding a sitemap doesn't affect search rankings. However, if you have a page on your site that isn't indexed, the sitemap gives you a way to tell search engines about that page.
Sitemaps are extremely helpful when starting a blog or building a new website, since most new websites don't have backlinks. This makes it difficult for search engines to discover all of your content.
This is why search engines like Google and Bing allow new website owners to submit a sitemap to their webmaster tools. This allows your content to be easily discovered and indexed by your search engine bots.
Sitemaps are equally important for established popular websites. They allow you to highlight which parts of your website are most important, which parts are updated most often, etc., so that search engines can see and index your content accordingly.
This helps improve your website's overall visibility in search engine rankings.
Why use a WordPress plugin to create a sitemap?
Why it is the easiest and fastest way to create a sitemap and upload it to Google Search Console , as we will see below.
In fact, in a matter of minutes (literally) you can have your sitemap uploaded, your page indexed and appear in Google.
How To Create sitemap WordPress with Yoast SEO?
Let's see how you can easily create a sitemap with the Yoast SEO WordPress plugin .
First of all I would like to say that there are many other plugins to do it, many other ways how to create sitemap in wordpress as valid as the one we will see below.
It must also be emphasized that after trying many options over the years, this is one of the ways that I like the most.
Without a doubt, the Yoast plugin is one of the fastest and most comfortable ways to integrate a sitemap on your site if you use WordPress (And no, I don't get paid to promote this plugin).
1. Install Yoast SEO Plugin for WordPress
By now, I guess everyone knows how to install a WordPress plugin . Anyway, I'm going to explain it very briefly, for those who just landed.
We go to the WordPress side menu and look for the " Plugins" option . Next, we select the " Add new" option.
Then click on "Install" Now button. After that Click on "Active Plugin" Now.
2 . Activate Yoast Sitemap
Once we have the Yoast SEO plugin downloaded and installed, we are going to activate the Sitemap option .
To activate this option and have our sitemap operational, you must go to the WordPress sidebar, select the Yoast plugin option (where it says SEO ) and go to the General section . Namely:

3 . Create XML Sitemap
Once you activate the plugin, a new tab "SEO" will be added to your WordPress admin panel. Just hover your cursor over the "SEO" tab and click on "XML Sitemap".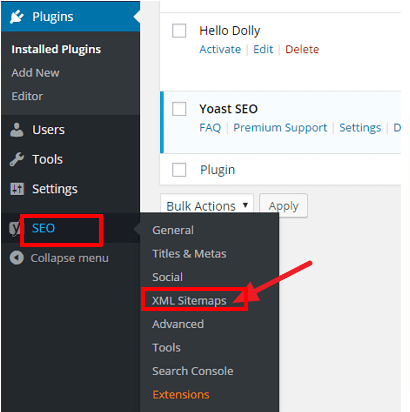 Yoast SEO automatically generates sitemaps. Just make sure the XML sitemap functionality is enabled (1). You can test your XML sitemap by clicking on "XML Sitemap" (2).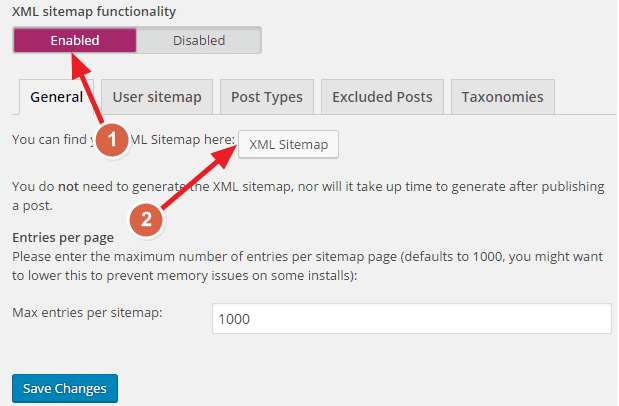 Your sitemap will look like this.
https://www.example.com/sitemap_index.xml
Yoast SEO generates multiple sitemaps for different types of content. By default, it will generate sitemaps for posts, pages, authors and categories.
If you run an online store with WooCommerce, it will also create a sitemap for your products
4: Configure XML Sitemap
Yoast SEO default settings for XML sitemaps are pretty good.You can go along with the default settings. However, there are some changes you can make to make your sitemap better.
The first tab is "General".You do now no longer need to do something here.Click on the second one tab "User Sitemap". Here you can enable or disable author/user sitemaps. I prefer to go with the default settings which are disabled.
If you run a blog with multiple authors, you may want to consider enabling user sitemaps.
The next tab is "Post Type" from where you can select the type of post to include in the sitemap. By default, Yoast includes posts and pages in the sitemap. You will also get custom post types here. I don't prefer include custom post types in the sitemap.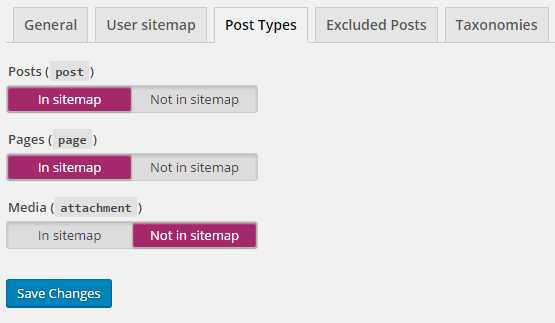 From the next tab "Excluded Posts", you can exclude posts/pages from the sitemap by entering the post ID with a comma.
The last tab is "Taxonomy". By default, Yoast includes categories and tags in sitemaps. I do not like include categories and tags in the sitemap. But it totally depends on your Search Engine Optimization plan.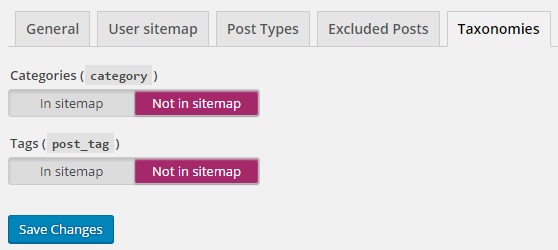 Then click on "Save Changes" to save your settings.
How To Create Sitemap in WordPress others Plugins
If you don't want to use Yoast SEO or if you use other plugins like Yoast SEO, you can use other WordPress plugins to create sitemaps for WordPress. Here is a list of 3 WordPress sitemap generator plugins
How To Create Sitemap in WordPress Using the Google XML Sitemap Plugin :
This method is recommended for users who do not wish to use Yoast SEO XML Sitemap feature.
First, all you have to do is install and activate the Google XML Sitemap plugin. For greater details, see our step by step manual on a way to install a WordPress plugin.
After activation, the WordPress plugin automatically generates an XML sitemap in your website. You can see this by adding sitemap.xml to your website address.
For example: https://www.example.com/Sitemap.XML
The plugin works immediately for most blogs and business websites. However, you should always review the plugin configuration to make sure nothing is missing.
Simply go to the Settings » XML-Sitemap page to configure the plugin.
At the top, the plugin will provide you with popularity information. It will warn you if the plugin is unable to ping the search engine.
You can go through the basic options where you can disable the plugin from notifying search engines, increase the PHP memory limit, etc. The default settings will work for most WordPress hosting environments.
Then you will see an additional page section.From right here you may manually upload pages for your XML sitemap. This is useful if your website contains static HTML pages not generated by WordPress CMS.
Then you can adjust how the plugin prioritizes posts. By default, it uses the number of comments to calculate the priority of an article.
The next two sections of the plugin settings web page assist you to consist of and exclude content material out of your WordPress sitemap. For example, if you have an e-commerce store, you might want to include the "Products" content type in your sitemap.
After that, you could modify the frequency and precedence of your sitemap content. Search engines treat changing these values as a suggestion and may follow or ignore these tags based on their criteria.
Finally, don't forget to click on the "Update options" button to save the changes
How To Create Sitemap WordPress using All-in-one SEO Pack
With over 30 million downloads, All in One SEO Pack is considered the best Yoast SEO option. It has almost all the features of Yoast SEO.
Like Yoast SEO, it allows you to create sitemaps for your WordPress site. This plugin also informs Google and Bing about your sitemap. You can include or exclude post types, categories, date archive pages, author pages from the sitemap using this plugin.
How To Create Sitemap in WordPress by using Premium SEO Pack
Premium SEO Pack is a relatively new WordPress SEO plugin. But it is growing fast. It offers various SEO features to optimize WordPress sites for speed and SEO.
It automatically generates multiple sitemaps for posts/pages, images, videos. This creates a location sitemap. This plugin is a good choice for those who want to try a premium plugin.
Read More :15 Best Free SEO Plugins for WordPress 2022
How to inform search engines about the systems?
Search engines are pretty smart at finding a sitemap. Every time you post new content, a ping is sent to Google and Bing to let them know about your sitemap changes.
However, we recommend that you submit your sitemap manually to ensure that search engines can find you.
Submit your XML sitemap to Google Search Console
Google Search Console is a free tool for webmasters offered by Google to help website owners monitor and maintain their site's presence in Google search results. Adding your sitemap to Google Search Console helps Google find your content faster, even if your website is new.
First, you need to visit the Google Search Console and sign up for an account which is totally free for webmasters.
Next, you will be asked to select a property type. You can choose a domain or a URL prefix We recommend choosing the URL prefix because it's easier to configure.
Enter your website URL and then click the Continue button.
You will then be asked to verify the ownership of the website. You'll see several methods for doing this, we recommend using the HTML tag method.
Copy the code on the screen and then go to the admin area of your WordPress website.
From here, you need to install and activate the Insert Headers and Footers plugin. For more details, see our step-by-step guide on how to install a WordPress plugin.
After activation, you need to go to the Settings » Insert Header and Footer page and add the code you copied earlier in the "Header Scripts" box. Be sure to click the Save button to save your changes
Now, go back to the Google Search Console tab and click on the "Verify" button
Google will look up the verification code on your site and then add it to your Google Search Console account
Note: If verification fails, be sure to clear your cache and try again. Now that you've added your website, let's add your XML sitemap.
From your account dashboard, you need to click on Sitemap in the left column.
After that, you need to add the last part of your sitemap URL in the "Add New Sitemap" section and click the submit button.
Google will now add your sitemap URL to your Google Search Console.
Then Google will need some time to crawl your website. After a while, you will be able to see basic sitemap statistics.
This information includes how many links Google found in your sitemap, how many of them are indexed, an image-to-webpage ratio, and more.
Submit your XML sitemap to Bing
Like Google Search Console, Bing also offers Bing Webmaster Tools to help website owners monitor their website on the Bing search engine.
To add your sitemap to Bing, you'll need to visit the Bing Webmaster Tools website and sign up for an account. Once you are registered, you can add your website in the "Add New Site" section.
On the next screen, you'll be asked to enter your website details, including your sitemap URL
Click on the submit button to continue.
Bing will now ask you to verify ownership of your website and show you several methods to do so.
We recommend using the HTML meta tag method. Simply copy the page's meta tag line and paste it into a blank text file on your computer
Now go to your WordPress website and install and activate the Insert Header and Footer in your website plugin.
After activation, you need to go to the Settings » Insert Header and Footer page and add the code you copied earlier in the "Header Scripts" box.
Be sure to click the Save button to save your changes.
How to use XML sitemaps for your website?
Now that you've submitted an XML sitemap to Google, let's see how to use it for your website.
First, you should note that XML sitemaps do not improve your search rankings. However, it helps search engines find content, adjusts crawl frequency, and improves your website's visibility in search engines.
You should keep an eye on your sitemap statistics in Google Search Console. It can show you crawl errors and pages excluded from search coverage.
Below the graph, you can click on the table to see the actual URLs that have been excluded or not indexed by Google.
Generally, Google may ignore duplicate content, pages with little or no content, and pages excluded by your website's robots.txt file or meta tags.
However, if you have an unusually high number of bounced pages, you may want to check your SEO plugin's settings to make sure it's not blocking any content.
We hope this article has helped you answer all your questions about XML sitemaps and how to create an XML sitemap for your WordPress site. You may also want to check out our guide on how to increase your website traffic fast with these simple tips.
Read More :