GeneratePress Reviews
Features
Easy To Use
Performance
Support
Value of Money
WordPress is a vast content management system and you will be lost with the plethora of free and premium plugins and themes available. Some of the popular premium themes also bundle plugins and are sold as a bundle to attract customers.
Although choosing a good theme depends on the features you need for your website, there are some themes that stand out from the crowd. GeneratePress is one such theme that can help you build a website very quickly GeneratePress is one of the best and fastest WordPress themes out there right now.
This theme has a free and premium version. In this GeneratePress theme review, we are mainly going to focus on the premium version based on our site usage. Also at some point, we will also talk about GP Free version.
Generatepress Theme Review – Step by Step Guide

In this comprehensive Generatepress theme review, we will look at every feature available when purchasing the theme and how to use the entire theme and build a website or blog.
 What is GeneratePress?
GeneratePress is a free lightweight multipurpose WordPress theme, you can use the theme to create a blog using the premium version, create a business site, a portfolio site, create an eCommerce site using the Woocommerce plugin, etc.

Before starting our GeneratePress review let's know more about GeneratePress theme briefly.
This is a WordPress theme
It is a lightweight multipurpose theme.
The new price for GP Themes is $59/year and $249 for a lifetime contract.
no question asked 30 days money-back guarantee
1 year update and support on annual plan and lifetime support/update for lifetime contract.
40% discount on annual renewal for old customers and no renewal discount for new customers
Use the theme on up to 500 websites.
Dedicated team and time for development and support.
GP Theme Gutenberg Ready.
Fully translated into more than 30+ languages.
It fully supports RTL language.
Full access to premium modules and site libraries.
GP and WPML are fully compatible.
Why GeneratePress Premium Theme Is The Best?
When you initially create your website or blog site, you must choose a good quality theme. For a good quality theme you go to the WordPress theme repository and search
You will rarely find some themes that are popular and suit your needs. GeneratePress is one of the popular minimalist themes that you can rely on to build your website.
If you don't believe me, you can check various forums, polls. Here are the results of some Facebook polls that were conducted in various groups and the majority are using the Generatepress premium theme.
GeneratePress Premium Theme is the most popular and lightweight theme and I am using this theme on this site and my other sites as well.
This theme speed load time is very good and it can load your site under 1 second.
And we all know that site speed is also a major ranking factor. If your sites don't load fast then you will definitely lose your site ranking.
Not only me but all the people in the blogging industry choose GP premium theme over other themes.
Evolution of The GeneratePress Theme

GeneratePress is a free WordPress theme developed by Tom Usborne, a famous WordPress developer from Canada. You will find GeneratePress if you search the WordPress repository.
The WordPress repository is where I first came across GeneratePress. Because I'm really particular about my website's performance, I usually ignore everything in the repository.
Usually because a lot of the content out there isn't that great or doesn't last very long. However, in this particular example, doing so was an error.
According to the WordPress.org theme page, the theme has over 2,8 million downloaded, 300K active installations with over 1,000+ five-star reviews. It is abundantly clear that Tom is successful in some endeavors.
After trying the demo version of the free theme for a while, I decided to go ahead and buy the paid version. Immediately, I was able to tell the developer exactly how I envisioned a theme to work.
First, let's take a look at some of the features, and then I'll dive into that in more detail.
Because it's worth it, most of what I'm going to cover here is included in the premium version of the theme.
The premium version also has over 80K+ customers indicating the popularity of the theme. The developer of GeneratePress also offers a block-based Generate Blocks plugin, which is the best alternative for heavy page builder plugins.
Top 5 Features That Make GeneratePress Unique
1. Optimized Performance and Faster Loading
GeneratePress Theme is built on a super lightweight framework, so you'll be able to have a faster loading site. The theme also uses less resources than many other themes.
GeneratePress is fully responsive and mobile friendly . That means that, regardless of the screen you're on, your website will look exactly the same. So don't waste time searching for a way to make it responsive just so it looks good on desktops and laptops ;).
When I test generate press page speed score 97 /100 in mobile and 99/100 in Desktop in google page speed Insight and Lighthouse perfomance tool combined performance of generate press page is high without any caching plugin
According to Google page speed Insights for The Mobile
According to Google page Speed insight for the Desktop
According to Gtmetrix GeneratePress Theme Page loading speed below the screenshot
2.Seamless customization in real-time
GeneratePress uses the WordPress Customizer to customize and edit your website and the most important feature I would like to mention is that you can see a live preview of the changes you have made.
The free version of GeneratePress comes with tons of features while the premium one will offer you more refined features and extensions.
You will be able to edit the layout of your WordPress site including:
Layout
Navigation options
Sidebar
Blog posts
Header and Footer
And much more. Apart from that, you can control the topography/font style, shape and size of every content on your site. Also, you can change the same color.
3.Post/Page-level Settings Offer You Greater Control
One feature of GeneratePress that I would like to highlight is that it advocates negative freedom. Sound difficult? Well, it simply means that it will give you unlimited freedom.
You can edit and customize various elements of your website at the post/page level giving you complete control over the general look of your site.
On each post/page, you will be able to:
Choose Sidebar Orientation
Change header/footer position
Disable some components
And much more.
4.Time-saving gallery of pre-made sites template

GeneratePress offers you a huge library of pre-made site templates. It is user-friendly and all you need to do is import it from your WordPress dashboard.
This is really helpful for debutante site-builders and bloggers as you don't have to start from scratch. You just need to import and customize a pre-made sites template and this customization will save you a lot of precious time.
5.Premium extensions and modular approach
GeneratePress offers you a plethora of state-of-the-art premium extensions at reasonable rates which I will discuss in the next paragraph.
GeneratePress also offers you a modular approach where you choose and activate the features you want to use This is really helpful because you won't be sacrificing your valuable loading time and SEO rankings for features you'll never use.
Sounds amazing, right?
Why is GeneratePress worthy of our attention?
This premium theme has many useful features and benefits:
It is search engine friendly optimized theme.
It is well-coded and safe to use.
Mobile-friendly design is great
Most webpage builders are compatible with these themes
Compatible with WooCommerce
Customer service is quick and helpful.
GeneratePress, on the other hand, seems limited in its free version. To make your web projects a reality, you need to upgrade to the Pro version. Throughout this post, we will compare the two versions.
The free version allows you to install it directly on your website directly from the WordPress directory and has over 200,000 active installations, with over 99.9% of reviews giving it a 5 star rating.
That being said, this is a fantastic theme.
Is it a powerful WordPress theme?
Since site performance is an important metric for SEO and user experience, I tested GeneratePress as I provided the screenshot in this post.
I set up a WordPress site on a remote server, filled it with useful content, added some images, and got the site to perform like this without any cache plugins.
Then, one by one, I activated four different WordPress themes and observed how they performed. Among all themes, Generatepress theme is performing best.
So I can definitely say GeneratePress is a very good lightweight, well optimized and schema markup WordPress theme.
Introducing a block-based theme builder for the first time
You can create any element on your website without touching a line of code by combining the GeneratePress premium and free GenerateBlocks plugins. With dynamic block elements you have complete design freedom.
From post meta to site footer, page hero to author box, single post template to 404 page, custom post card to custom any look and design you can give your website or blog site.
Choose from a large collection of professionally designed websites to get your new site off to a great start You will be able to save hours of development time.
For over 5 years, GeneratePress has been the foundation of our website and e-commerce services. We can make almost anything with it,
Knowing that our sites will be easy to maintain, we'll be fully compatible with any plugin and ideally tuned for both performance and responsiveness.
Pros and Cons of Using GeneratePress Theme

Each WordPress theme has several advantages and disadvantages. Some are tolerable, others are unavoidable. Here are some of the pros and cons of GeneratePress that we discovered during our research.
Pros of The Generate WordPress Theme
Let's start with the benefits that make GeneratePress the best option for our website.
GeneratePress WordPress Theme is completely free with limited features, but there is a GeneratePress Premium plugin for more advanced customization and features, known as GP Premium Plugin. GP Premium is reasonably priced at $49.95 and allows you to use it on 500+ websites
Fastest and Lightweight Theme: GeneratePress is one of the lightest and fastest themes on the market.
We performed several speed tests on a newly installed WordPress site hosted in a shared hosting environment This is the environment most people will use it in
GeneratePress has no plugins enabled by default except GP Premium. We tested the site with Pingdom tool with testing server set in North America – USA – San Francisco.
First, only GeneratePress and GP Premium enable results. No module is activated.
It loads in less than a second, performs 12 requests and weighs only 61.5 KB. It can't be stronger than this!
In the next test, we disabled GeneratePress and GP Premium and used the default Twenty Nineteen theme.
Although it performed 1 less request, it loaded slowly and had a large page size
Next, we tested again with GeneratePress and GP Premium enabled, but this time with all modules enabled.
The difference between the default GeneratePress and the active All module is very small. It made one more request and loaded about 200ms slower but the page size remained about the same.
Although it is now .02 seconds slower than TwentyNineteen, we have to remember that it has all the modules enabled, it has a lot of new features that ultimately make GeneratePress much better than TwentyNineteen.
It is easy to Customize:The wordpress.org directory has many themes that can be fully customized by anyone. But GeneratePress is a theme that can be easily customized without any coding knowledge.
No hidden fees: When you sign up for buying GeneratePress Theme the is no hidden fees.
Site Library: GeneratePress Premium users have access to a library of 45+ ready-made website designs. If you have "GP Premium" plugin installed on your website, you can import any ready-made template from site library with just one click.
Page Builder: You can easily use GeneratePress Theme with popular page builders like Elementor, Thrive Architect, DIVI Builder, Beaver Page Builder.
WooCommerce Integration: If you want to create an eCommerce website, you must install WooCommerce. You don't need to buy another theme for your eCommerce website because GeneratePress has WooCommerce integration.
Comprehensive documentation: For beginners, theme documentation is one of the most important things. They have an Comprehensive documentation library of articles, videos and other media.
As always with any project, documentation is important, and GeneratePress Theme has the best documentation section available.
You can discover an in-depth guide to each module, customization, hook and filter here. At docs.generatepress.com, you can find information on the GeneratePress theme documentation. It makes it easy to navigate and search for specific tutorials inside the knowledge base because the documentation is organized into four sections.
Best Customer Support: GeneratePress has a support forum where you can ask questions directly to the developers. This forum is very active and well maintained, and you will get a response within 12 hours
Schema: Built-in schema support is one of our favorite features of this theme. Google often states that schemas are necessary for them to correctly understand and display your website's content and details on search engine results pages (SERPs).
Although there is only anecdotal evidence that adding schema markup to your website increases SEO, it improves your SERP prominence as shown below (dates event schema).
In turn, this prominence can result in more click-throughs, which is always beneficial for SEO and ultimately your business.
Cons of the GeneratePrss Theme
You won't find any product or service in the world that doesn't have some kind of cons. Generatepress theme is no exception. Surprisingly, we can find very little wrong with it. However, before proceeding, make sure you agree with me on the disadvantages below.
A Single Developer :One of the most notable drawbacks of GeneratePress is that the theme is still maintained by a single developer. So, without a large company support team with dedicated customer support, getting a response can be time-consuming. Also, updates are slow compared to competing themes like Astra where replies are almost instant.
Not Drag and Drop Compatible :Unlike some other page builders, there is no support for drag and drop. While this makes customization more complicated with WordPress' customization feature, it's still a time saver. However, we would expect a more polished customization interface with future updates.
Free version is limited :We will not recommend anyone to use the free version as it is limited. That said, this should tell you what to expect. However, once you start using it and think it will work for your website, not upgrading means you are missing out big time on the potential of this WordPress theme.
Footer Credits: One major drawback of GeneratePress is that its free version does not allow you to remove footer credits. For example, there are many popular WordPress themes that allow you to remove footer credits, such as the Astra theme. There are many WordPress themes that allow you to easily remove footer credits using a plugin. But Generatepress is too complicated to do that.
GeneratePress Theme Features
The theme offers the following features:
 Light Weight ,Schema Markup and SEO-friendly theme
High speed with few CSS and JavaScript
 Custom theme options 
Gutenberg Support
 Premium plugin Mini 
  Site builder that uses sections 
Show or hide elements and get personalized navigation
 Custom Elements to hook in any position the layout
Additional colors and font options
Site library to choose from pre-made templates
GeneratePress Free vs Premium
GeneratePress is a lightweight and fast loading theme that comes in both free and premium versions. The free version is available in the WordPress Free Theme Library. However, colors, typography, site libraries, menus and other customization options are limited.
If you want a different and better design than other blogs, you need to upgrade from free to premium to unlock the limited features option. I have prepared a small table for those who want to know the difference between free and premium.
| | | |
| --- | --- | --- |
| Feature | Free | Premium |
| Price | Free | Paid |
| Colors | Limited | Unlimited |
| Typography | Limited | Unlimited |
| Menu | Limited | Unlimited |
| Container Layout | No | Yes |
| Breadcrumbs | No | Yes |
| Hooks | No | Yes |
| Demo Sites | No | Yes |
| Background Images | No | Yes |
| Widgets | No | Yes |
| Buttons | No | Yes |
| GP Premium | No | Yes |
| Copyright | No | Yes |
| Tech Support | No | Yes |
| Action | Install Free Version | Buy GP Premium |
GeneratePress Review – GeneratePress Free Version
If you're thinking about installing the free version of GeneratePress, you might want to keep the pros and cons in mind.
We'll delve into all the ins and outs of GeneratePress in our review, but for a quick summary, here's what you can expect from the GeneratePress theme.
How to Install GeneratePress free theme?
The free version of GeneratePress is easily installed from the official WordPress theme repository.
To install GeneratePress Free Themes.
Click Appearance from the WordPress dashboard.
Next  click on Themes
Then click Add new option you will see that a series of featured themes will appear.
Enter the name of your desired Generatepress theme in the search box and search.
Select GeneratePress theme and click Install.
Once installed, activate it and you are ready to start using it
Generatepress has a child theme.
My recommendation is to install the child theme.
A child theme in WordPress is a theme that inherits the functionality of another theme, the so-called parent theme. They allow you to modify existing or add new features, change the behavior of the core theme, and safely add large chunks of code.
You should use child themes because:
If you directly modify the original theme and update it in the future, the changes will be deleted
Child themes are not updated, so changes are not deleted.
This is a safe way to add new code. If you change the main theme, you can make a mess.
You can download the GeneratePress child theme from its website in zip format.
Next, go to the WordPress administration panel
Click on the Dashboard's Appearance menu.
Click on the Theme.
Select your downloaded child theme by clicking on Add New and click on Upload Theme.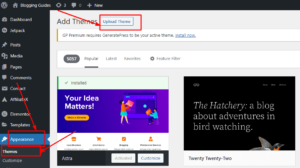 Choose file and click install the theme and activate the child theme for everything to work properly.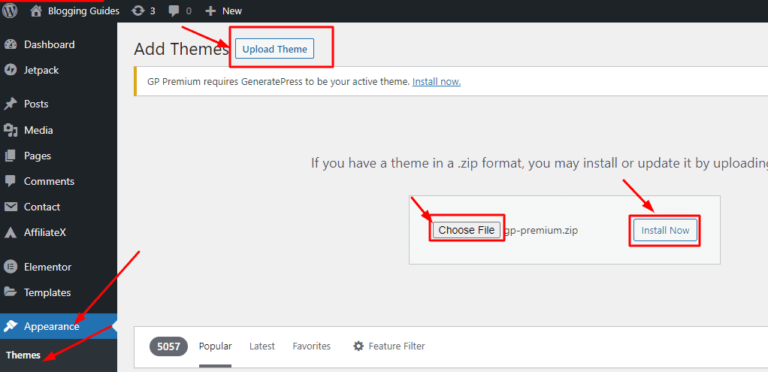 Features of the GeneratePress free theme
If you've already installed GeneratePress on your WordPress and activated the child theme, it's time to start writing about the options we can do.
For this it will appear from the dashboard
Go appearance menu and click Customize
From here you can create and select general logo options, site titles, descriptions, menus or add additional CSS, but…
Site Identity
The Site Identity tab is no different than any other theme. It allows you to edit key details of your site, such as the site title, logo or tagline.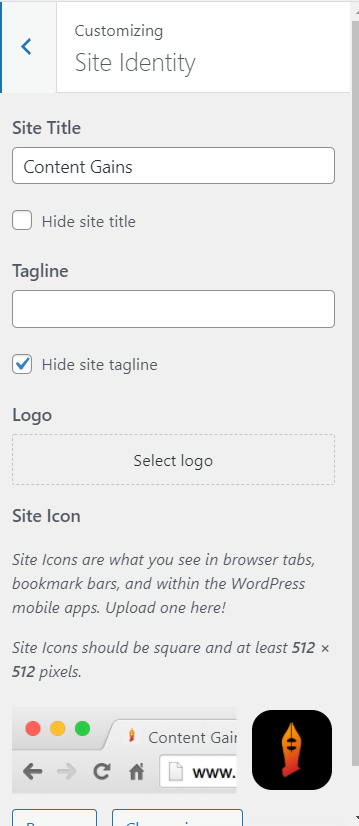 But that's an important point about GeneratePress (and the company's paid products like GeneratePress Premium or GenerateBlocks).
They try their best not to stray too far from the WordPress customizer and add important features like the Site Library module without sacrificing simplicity.
Yes, it reduces some of the more complex customization options.
But it makes the GeneratePress theme extremely lightweight, loads fast and lets you edit it easily.
Layout
With these options you can modify the visual appearance and structure of your web page.
Customize the width of the page and the containers used.
Modify some aspects of the header and the main menu.
Select where you want and where you don't want the sidebars to appear.Touch certain parts of the footer and blog.
Colors
The available options allow you to choose the background color of the page, of the text, of the links in normal state, of the links when the mouse is over (:hover), of the visited links, of the blog titles and of the texts.
Typography Options
GeneratePress uses fonts from Google Fonts. Its allows you to select from hundreds of them.
In addition, and even in the free version of the theme, you can configure the font size, the line height, the margin between the paragraphs, the weight and transform the text between uppercase, lowercase or capitalized.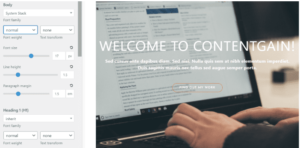 Of course, the possibility of modifying the fonts is reduced to the general text of the page (body) and the headings H1, H2 and H3.
Menu
The menu tab is nothing special. It allows you to edit the menu position in your site's header, footer menu and main menu:
This tab allows you to reorganize and add new menu options, including links to your various site categories or off-site accounts.
Widgets
In GeneratePress you have many spaces available to place widgets that serve to improve your design or your conversions.
A widget in WordPress is nothing more than an element (image, text, form, social network buttons, etc.) that can be placed in certain spaces on the web. A module that adds functionality in a specific place.
You can place widgets in reserved spaces in the header, in the right sidebar, up to 5 spaces in a widget bar that sits just above the footer, in the footer itself, and in the top bar.
GeneratePress Premium Theme
If you have found this WordPress theme attractive and interesting so far, I think that in the following paragraphs you will end up loving it.
If you want to purchase GeneratePress Premium you have to do it through a single annual payment of about $59 on their website.
Once the payment is made, it will let you download a plugin (yes, the GeneratePress Premium comes in a plugin format) and the key to be able to use all its functionalities.
In addition, as I have mentioned, you can install it on an unlimited number of sites, so it is a really cheap license.
Generatepress Premium Theme Price
GeneratePress Premium is surprisingly very low priced, considering what you get for your money. While the free version is sufficient for many people's needs, the premium version gives full access to the site library and unlocks all kinds of modules.
An annual fee of $59 gets you one year of updates and support.
And pay a one-time $249 for lifetime support and updates. Both plans offer a thirty-day money-back guarantee and the theme can be used on more than 500 websites.
How to install GeneratePress Premium Theme?
Installing the plugin that activates the premium features of GeneratePress is very easy.
From the WordPress administration panel, go to the Plugins -> Add new option. Click the Upload Plugin button. Look for it in your team, upload it and activate it.
Now from the Appearance -> GeneratePress option you can indicate the Premium key, which we have previously downloaded. Write it in the field that indicates "License Key" and save the data.
In addition to having access to premium modules, you will receive all future updates.
And not only that, from this same page if you click on the "Site Library" section (you must activate the Site Library module previously), you can load pre-made templates that will save you dozens of hours of work.
And what is better, you can select between those without a builder, those designed with Elementor or those designed with Beaver Builder.
Activate GeneratePress Premium modules
On this same screen you can activate the different modules that we can access when installing the GeneratePress Premium plugin.
You can activate all of them or only the ones you strictly need, it is up to you and that is where the great versatility of this theme comes from.
There are a total of 13 modules, of which you can activate 12 in a normal installation and a last one if you have Woo Commerce installed, the WordPress extension to create online stores.
I assure you that the features it incorporates are very interesting:
More design possibilities.
More font options.
More color combinations.
A secondary menu and a side menu.
More complete options when building your blog.
Header and footer settings.
Woo Commerce Customize and much more.
Do you dare to take a look at them?
Backgrounds
With the activation of this module you will be able to place background images in various places on your web page.
In the body of the page.
In the header.
In the main and secondary menus. In this case, several can be configured so that they change if the mouse passes over it or it is the option that is selected.
In the text container.
In the sidebars.
In the footer, both in the widget area and in the interior area where the copyright and legal notices are usually placed.
You will be able to configure different characteristics of the image: if it is repeated or not, the size, the position or the movement.
Blog
Undoubtedly one of the modules that you will most appreciate.
You will be able to almost completely customize the fundamental aspects of each entry and the blog page. It is, of course, a qualitative improvement of great importance with respect to the options that GeneratePress free brings.
This module allows:
Configure the data that we are going to show (date, author, category, comments, etc.) and the "read more" button.
Show the entire entry or a summary of it.
Arrange the text in one or more columns.
Place the featured image in different positions relative to the title, configure its size and its alignment.
Copyright
This is a very interesting option that allows you to include content in the bottom bar of the website, where legal notices and other elements usually appear.
You'll be able to do this with HTML and CSS, with a lot of potential to create something really interesting.
But GeneratePress Premium version lets you easily add copyright notices and social icons to your website with the help of font awesome
Disable Elements
This is one of my favorite options, and it's really useful if you're using a visual page builder like Elementor or Divi.
Do you want to disable a specific part of the web on a page for design or strategy reasons? Well, this is exactly what this module does.
You can disable:
Top bar.
Header
Menus.
Featured image.
Page title.
Footer.
For example, when I design the pages in Elementor I don't want the featured image and the title to appear by default, because my intention is to place them where I want using the constructor.
And another case. On a particular page you may want to remove the header, but not the footer. Well, by selecting the option, the part that you decide will be disabled.
In this case the configuration is done in the edition of each page.
Elements Module
GeneratePress Elements is the most exciting feature of the GeneratePress theme and I discovered it a bit later while using the theme but the work it can do is amazing.
With GeneratePress elements you can add specific code to your header, footer or any different section of your website, add a custom title to specific pages and posts on your website, change the layout of specific sections of posts or pages on your website, and much more.
GeneratePress Elements is like a miniature page builder for your GeneratePress theme that lets you create custom-looking footers, headers, and sidebars for your website. You can even add the GenerateBlocks plugin to extend the functionality of this feature and take your website to the next level.
There are basically 4 different types of components you can create with the Components module.
Block element
Header
Hook
Layout
Let me explain each element one by one.
Block Element: Block element allows you to create custom blocks for your website which can be used to create custom site headers, site footers and site sidebars for your website.
You can choose the display position of block elements to display on your selected pages and posts.
 Header Element: This element also helps you create a customheader for your blog posts and pages, with this element you can choose what kind of metadata to display on your posts like: post name, author, date, etc.
Hook element: The hook element allows you to add custom hooks to various places on your website.The hook element allows you to add various codes to different parts of your website such as headers.php, footer and other parts of your website.Previously when adding Google Analytics code we had a separate plugin to add some code to our website, we either manually added the code to the theme files or had to install a separate plugin to add a code to our theme files. .But with the GeneratePress Hooks component, you can add your code snippet to any part of your website without adding another plugin.
 Layout Element: using the feature you can set Different layouts for your website for different categories and pages on a sitewide scale.GeneratePress already provides this feature inside the post and Page customizer but with the layout element, you can customize the layout of certain categories on a site-wide scale, which means you don't have to go and change the layout of every single post and page of the categories that you wanna change, you can do this in a few clicks with the help of this feature.
Elements for custom designs
After using the theme for a few months, we were surprised to see the power of the Elements option offered as a premium feature. You can create a header, sidebar widget or any other element and assign it to the site layout based on the rules. This will make it easy to insert specific elements for categories, posts or pages. For example, you can have a special text box widget to display in the sidebar of posts that belong to a particular category.
Menu Plus
This module includes the necessary options to configure the menu of your web page.
You can separately configure the way to display the menu on PC and mobile, activate the option so that the menu is always visible and anchored at the top of the browser (sticky navigation) or the possibility of configuring different logos depending on the device .
A basic in any minimally professional design.
Secondary Navigation Menu
Among other features, it allows you to add a secondary menu to your web page with all the customization options that the main menu also has.
The truth is that I have never needed it, and it is one of the modules that I usually leave unactivated, but if your project needs it, there you have it.
Sections
If you don't use a visual builder like Elementor or Divi on your website, this module might be useful for you.
It allows you to build pages by configuring successive blocks without the need for a layout designer, where you can configure backgrounds, texts, widths, margins, add shortcodes, etc.
Even if I'm honest (personal opinion!!), I think that Gutenberg, the new WordPress block editor, surpasses and improves this add-on so I usually leave it disabled.
Because they are not yet compatible, a page built with sections is not editable in Gutenberg…
Site Library
Site library is the most interesting feature of Generatepress theme and I especially like this functionality.
With the GeneratePress Site Library feature, you can import ready-made designed website layouts into your website.
This will not only enable you to save your time but also help you get the best designed layout and customization in one click.
There are tons of really cool website templates inside the GeneratePress site library, and you can import any website design layout you like.
Personally, I like the marketer template from the GeneratePress site library because it's designed specifically for internet marketers.
When you import a website layout into your website using the site-library feature, it will automatically create some pages, install some plugins and add some demo content to your website, which you can later move according to your needs.
Spacing
Essential module in the design.
Thanks to it you can control the spacing (padding) and width of different sections of the web (such as the menus or the sidebar).
Typography or Fonts
If you want to have total control of the fonts on your website, and be able to configure them to your liking, you must have this add-on yes or yes.
You can separately configure the fonts of:
Body of the page.
Heading,Title Like H1,H2,H3..H6 erc
Main, secondary and side menu.
Buttons.
Headers.
Widgets
Footer.
Size, weight, typography, spaces… each part of the page can have its own.
Import/Export
And finally, a functionality that does not need to be activated, but that is also typical of the Premium part of GeneratePress.
If you have configured different parts of your website through the WordPress customizer, you can take them to another website without difficulty through the GeneratePress export and import tool.
Be careful not to confuse it with the WordPress content export and import tool, which is located in the Tools option of the menu.
GeneratePress with other technologies and plugins
I'll tell you one thing, GeneratePress adapts perfectly to a good number of plugins and technologies that will take your website to the top.
Thrive Architect or Elementor with GeneratePress
It is the perfect combination with visual layouts Elementor ,Divi,Trive Architect. In fact, my website is built with GeneratePress and Elementor.
On the one hand, because the disable elements options are great for making the website (excluding header and footer) a blank canvas on which to build your design.
On the other hand, optimizing and cleaning the theme makes sure that the builders do not slow it down too much. This is precisely what David Viña was talking about on Twitter: his website was speed up by changing its previous theme to GeneratePress.
GeneratePress and Woo Commerce
If you need to design an online store, the combination is great.
By installing Woo Commerce you will be able to activate the specific module that GeneratePress Premium has prepared.
With it you can customize different options of your online store:
Place notices in the store and options at checkout.
Configure the catalog and images.
Configure the way to display the products in the store, the columns by which they are sorted, the number of products per page, etc.
Configure the product page.
So far I have not found any reason that leads me to think that the adaptation is not complete, so I recommend that you try this combination to see how it turns out for you.
GeneratePress with Polylang
If you want to make your website polyglot and speak more than one language, the Polylang plugin is your friend.
And the combination works perfectly, being able to configure the pages and entries in each language and placing the switch in the menu.
GeneratePress and advanced sites
I have tried the combination with membership plugins (such as Ultimate Membership Pro) or that create communities (such as bbPress) and the truth is that I have not had any problems.
If you have tried it with more, do not hesitate to indicate it in the comments.
Support and Documentation of GeneratePress Theme
Aside from Excellent performance and features ,Generatepress  has excellent support and documentation
Documentation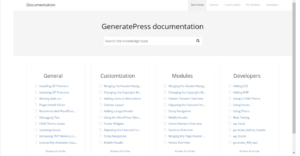 GeneratePress has a huge library of documentation specifically designed for GeneratePress theme users.
This documentation will help you find any help related to the GeneratePress theme.
You can find the documentation related to installing the theme to customize it properly. Everything related to the GeneratePress theme is inside the documentation.
Here is the link to GeneratePress Documentation.
Generate Press Support Forum
GeneratePress also has a super active support forum where customers can ask their questions related to GeneratePress themes.
The community is very active, and the support team members are really quick to answer questions. Sometimes even the founder and lead developer of Generatepress theme "Tom Usborne" tries to answer people's questions.
8 Reasons Why Generatepress Is My Favourite WordPress Theme
GeneratePress has now become my first choice when it comes to WordPress themes. Here are 8 main reasons why it's on my list of favorites –
Generatepress is a very lightweight theme under 1 MB to give you an amazing page loading experience.
And you know what?
Website speed affects your ranking. So, if your website doesn't load quickly, you're not going to do well in search rankings.
It's not just about ranking, it also affects the user experience on your website. People can't wait these days so if your website takes a long time to load your bounce rate will increase which is not good for your website at all.
As you probably know, how important schema markup is for Search Engine Optimization (SEO). If not, it tells search engines about important tags used in your blog post.
In fact, Google simply reads the schema markup and presents your blog in search results accordingly. It also helps your blog get featured in rich snippets
In GeneratePress, you don't have to worry about schema, it doesn't need to install a plugin. It is built into the GeneratePress theme.
Amazing support and documentation –
GeneratePress offers you a great detailed documentation that covers almost all your questions in its free version. For example, how to add custom CSS, how to change colors and more…
The best part?
If you use Generatepress premium plugin, it provides you 24*7 hours support.
So, if you have any query or problem you can go to support anytime and your query will be solved very soon.
Generatepress is a 100% mobile responsive theme that provides a great experience for mobile users
Most users will come from mobile devices so your website must be optimized for them.
Also, after the mobile-first update by Google, Google doesn't like to rank sites that aren't mobile-friendly.
In short, to get better ranking on mobile, to get better user experience, your website must be fully mobile responsive.
When it comes to GeneratePress, it is fully mobile responsive as well as almost all themes these days are optimized for mobile users.
Compatible with Page Builders –
GeneratePress theme is compatible with almost all page builders such as Thrive Architect, Elementor Baye's Page Builder etc.
I am building my site mainly with GeneratePress and Elementor Page Builder
But if you ask me which is the best page builder to use generatePress?
Then, Elementor is officially recommended by generatePress which comes with both free and paid versions.
If you are using the free version of GeneratePress, the customization is undoubtedly very basic and limited. Actually, you can't design exactly as you want. You need to have enough coding knowledge to do this.
but,
When it comes to its paid version, you can customize it as much as you want. This unlocks some advanced customization options. Even if you are a non-techy person and have zero knowledge of coding, you need not worry.
Generatepress is absolutely beginner friendly. It's really easy to customize it as you want.
So if you are very new to wordpress or have zero coding/technical knowledge even you can customize it without any head-cache.
All features are easily accessible with the WordPress customizer and categorized for easy access.
If you are a beginner and even your budget is tight you can still afford this theme
It offers all the features you need at an affordable price.
So, these are the main factors that make this theme my favorite but bottom line, I also love the look of it.
Read : Hostinger Black Friday Deals 2022
GeneratePress Theme FAQ
What are the best WordPress themes? 
WordPress is one of the most popular websites in the world, and for good reason – it is user-friendly, versatile, and has a huge plugin community. That being said, it can be difficult to decide which WordPress theme is best for your website.
There are a number of factors to consider when choosing a WordPress theme, including the layout and design, features, compatibility, and overall look and feel. Additionally, it is important to consider your website's purpose – is it a personal blog, business website, or something in between? Once you have identified these factors, it is time to start browsing the WordPress themes marketplace.
There are literally millions of themes available on the market, so it can be difficult to decide which one is right for you. To make things easier for you, we have compiled a list of our top 10 best WordPress themes. These themes are versatile, high-quality, and designed to fit any website.
Is GeneratePress the fastest loading WordPress theme? 
GeneratePress is definitely one of the fastest loading WordPress themes available. Not only does it load quickly, but it also has a sleek and modern design which makes it perfect for any website. Additionally, it is one of the most feature rich WordPress themes available, and it includes everything you need to get started with your website.
GeneratePress also has an excellent support team, so if you run into any problems or have any questions, you can always contact them for help. They are available 24/7, and they are well versed in both WordPress and GeneratePress. 
They will be happy to help you out with whatever you need.and help you to connect with your potential customers. If you are looking for a tool that will allow you to create a website that is tailored to your specific needs, then the GeneratePress Premium version maturates which is the GeneratePress Premium version worth it?  um version has a number of social media integration fe
There are a few different versions of GeneratePress, and the Premium version offers a number of benefits that may be worth the investment. The most significant benefit is the ability to create custom themes and designs from scratch. This allows you to create a site that is unique and tailored to your specific needs. Additionally, the Premium version offers access to more features and tools, including the ability to add videos, images, and other multimedia content.
Conclusion
Thank you for reading my  GeneratePress WordPress Theme Review. I hope you found it helpful in making a decision about whether or not this theme is for you. If you are looking for a fast, lightweight, and schema-friendly WordPress theme, I recommend you check out the GeneratePress theme for your blog.
 I think ,Generate press theme is the best theme for creating any kind of blog or website.