Most of the people don't know what is a domain Name for Website? The domain name is the string of text appended to the IP address which is in numbers, which is used by the client software (browser) to access the website.

A domain name is a way of identifying one or more IP addresses. For example, the domain name google.com points to the IP address "74.125.127.147".
It is very difficult to remember such a long IP address. Hence the need for a domain name, it is easier to remember a name than to remember such a long number (74.125.127.147).
In simple language, domain name is the text that the user types in the address bar of the browser to access a particular website. For example, the domain name of Google is 'google.com', the domain name of web information is Blogging-Guides.com', the domain name of Wikipedia is 'wikipedia.org'.
How do domain names work?
When you enter a domain name by typing it into your web browser, your request is sent to a global network of servers that make up the Domain Name System (DNS), which is like the Internet's phonebook.
The server then searches for name servers related to the domain and forwards the request to that name server. Name servers are large computers managed by hosting companies. The hosting company forwards the request to the web server where your site is stored. The web server locates the requested web page or information and forwards it to the browser.
Name servers connect a domain to a server by letting the server know the IP address of that domain. Name servers are similar in appearance to a domain name. Every hosting company has a name server. For example, if you have bought a domain from your hostinger, then its name server will look something like this:
ns1.dns-parking.com
ns2.dns-parking.com
The Domain Name System is managed by the Internet Corporation for Assigned Names and Numbers (ICANN). It is a non-profit organization that makes and enforces policies for domain names.
ICANN allows domain name registrars to sell domain names. It also permits them to make changes to the domain name registry on your behalf, and to sell, manage, renew, and transfer domain names to other registrars.
As a domain name owner, you should renew your domain registration before it expires.
Domain name types are available
Domain names are available in many different extensions. The most popular of these is .com. Apart from this, there are many other options like .org, .net, .tv, .info, .io, and many more.
There are 6 types of domain names. Let us know in detail about all types of domain names:
TLD (Top Level Domains)
The URL of each website is divided into two different parts. Top-level domains (TLDs), also known as domain name extensions, are the part that comes immediately after your primary domain name. For example, the .com in google.com is a domain name extension ie a TLD.
However, there are many other TLDs besides .com. You can select from dozens of options, such as .net, .blog, or .io (which was initially a country code but has since been co-opted by the tech community).
There are many TLDs from which you can choose a domain for yourself, such as .net, .blog, .in etc. Complete list of top-level domains. Some common TLDs you'll often see are:
.com (commercial)
.org (organization)
.net (network)
.gov (government)
.edu (education)
.name (name)
.biz (business)
.info (information)
You've probably come across .com, .net, .org, and a few other TLDs. However, as the Internet expanded, so did the need for unique domains. That's why ICANN started giving new domain options for the website so that you can get more domain options for the website.
Which means that domains are no longer dependent on Latin-based characters. For example, some domains use Chinese, Arabic, Hindi, us characters, and even Cyrillic. Other domains are niche-specific, such as .biz for business websites.
Also keep in mind that some TLDs are restricted. For example, only government websites can use the .gov extension, .edu can only be used by education institutions.
Country Code Top Level Domains (ccTLD)
As mentioned in the previous point, there are many different types of TLDs. When it comes to country code top-level domains (ccTLDs), they are only used in specific countries. A ccTLD from one country cannot be used by another country.
For example, India's ccTLD is .in, Ireland is .ie, UK (.co.uk), Canada is .ca, and the US is .us. All of these can be great options if you want to take a domain and the .com version of it is already taken. List of some of the available ccTLDs in India.
Keep in mind, however, that there may be limits to this type of TLD if you're targeting an international audience. Many businesses use different TLDs by region, such as Amazon, which is amazon.com for a US audience, amazon.in for India, amazon.ca for Canada, and amazon.sg for Singapore. Similarly, Google, Amazon and many other big companies use the domain of that country to target country wise audience.
Here is a list of some ccTLDs:
.us: United States
.in: India
.ch: Switzerland
.cn: China
.ru: Russia
.br: Brazil
.cs: ​​Canada
.fr: France
.de: Germany
.it: Italy
.co.jp : Japan
.mx: Mexico
.nl: Netherlands
.pl
.sg: Singapore
.es: Spanish
.tr: Turkey
.ae: UAE (United Arab Emirates)
.co.uk : UK (United Kingdom)
Generic Top-Level Domain (gTLD)
Then there are generic top-level domains (gTLDs). Now, we have a new generation of TLDs (often referred to as "new TLDs") to choose from.
We've seen some of these newer domains like .blog and .io, but there are many more out there. For example, if you run a yoga studio, you can choose the new .yoga option instead of .com. Domain options like .tech, .space, .shop, and even .art are also available.
So, when choosing a domain, you'll want to think about what would be the best domain for your brand and your audience, and choose something that's easy to remember. After all, you want people to remember your website, so that they come back again and again.
This is a complete list of gTLDs available for registration.
Second-Level Domain (SLD)
So far we have talked about the TLD section of the domain name of the site. But, what about the rest of the URL? There is no talk about the rest of the URL. That's what second-level domains (SLDs) are about.
Let us understand with an example, see this URL: www.Blogging-Guides.com. In this "Blogging-Guides" is an SLD. As we have seen, .com is TLD and .co.uk is ccTLD. SLD is what comes immediately before the domain extension. google is a SLD in google.com, amazon is an SLD in amazon.in.
SLD is what people connect with your website and know your website. That's why take some time and consider your domain name.
Third-Level Domain (Sub-Domain)
Third-level domains are below second-level domains. They are not a complete domain name in themselves, but rather a part of a domain name. It is also called a sub-domain.
For example, in the domain name "www. "Blogging-Guides", 'www' is the third-level domain. Or if you use a subdomain to create an additional section of your site, that too is called a third-level domain.
Some examples of third-level domains:
www.Blogging-Guides.com
Blog.Blogging-Guides.com
Tools.Blogging-Guides.com
If there was 'blog', 'Tools' or anything else in place of 'www', then it is also called third-level domain or sub-domain or sub-section.
You do not need a third-level domain name for that by naming it completely. For example, typing 'Blogging-Guides.com' will still work perfectly. The 'www' that used to be a requirement of domain names is no longer necessary.
If you need a subdomain within your existing domain, then you can use a third-level domain name. Subdomains are used for many different reasons, such as:
Blog host: You can host your blog on a subdomain like 'blog.mysite.com' to create a separate content hub.
Creating a resource section: If you have a resource, tutorial or help section on your website, you can host it on a subdomain like 'support.mysite.com' or 'help.mysite.com' or 'tutorial.mysite.com' .
Hosting the App: If you have a web-based app, you can use a subdomain like 'app.mysite.com'.
Creating an Online Store: Online stores require many different software, programs, and security protocols. Instead of applying this to your entire site, you can also use a subdomain like 'store.mysite.com' to run your storefront.
Premium Domain
Sometimes when you're looking for a domain name, you'll see that the one you want is already taken. This means that it is a premium domain – a domain that is owned by someone else.
The good news is that you don't necessarily have to give up that domain. Often people will buy domain names and not use them. They buy and hold those domains and then sell them for a higher price.
Usually, such domains command a very high price. It can be in few thousands or even in lakhs. Such domains would have been bought because they are small and their demand would be high.
So now you must be wondering what to do and from where to get the same name domain? So there is no need to be disappointed. You can buy this any other domain or if .com domain of the same name is not available then you can take .in or any other extension domain which is available.
If you want domain and hosting cheaply, then I would recommend you Hostinger because in Hostinger you get premium service very cheaply and that too for a long time, for which other hosting sites would charge you a lot more money. You can check something.
What is the difference between domain name and URL?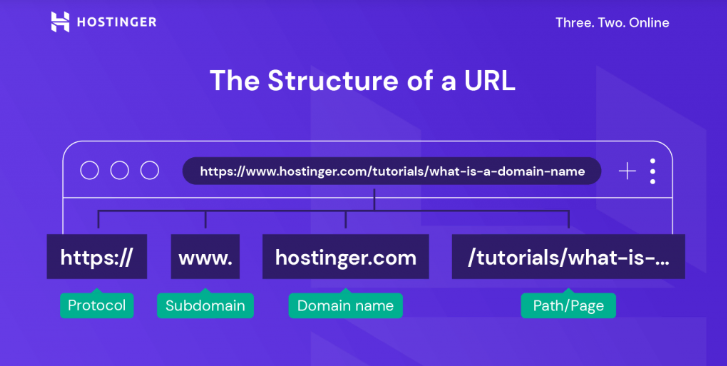 Domain name and URL both are different but for browser both are same and both are related to each other because both work in same way. Read this to know about URL in detail.
Though both look similar but still there is a difference between the two.
Domain also works without URL but URL will not work without domain. 'www.blogging-guides.com' is a domain name and 'https://www.blogging-guides.com / what is domain-name' is a URL. Domain can be called URL but URL is never called domain name.
A URL is a complete address on the Internet that indicates the address of a specific page on a domain. It gives web browsers all the information needed to identify and display a given page, resource, or media.
Domain names are technically used in place of IP addresses. Through this we can access the website. The domain name is the name and extension of your website. That is, it is made by combining TLD and SLD. TLD and SLD are mentioned above.
Is the domain name free or do you have to buy it?
Now you know about domain name. Let us know from where we can get the domain name.
First of all, I would like to tell that we can get the domain for free and we can also buy it. Now you must be thinking that if it is available for free then why should we waste money by buying it? But both free domain and paid domain have some advantages and disadvantages. Let us first talk about their advantages and disadvantages.
Pros and Cons of Free and Purchased Domains
Advantages and disadvantages of taking a free domain
Advantages
We get this for free. For which we never have to pay money.
In free domain, you get only domains like .tk / .ml / .ga / .cf / .gq. Which are for lifetime.
We get TLD domains for free for one year only.
Temporarily perfect for website or testing.
You can use it on any free or paid hosting site.
Disadvantages
TLD domains are available free only for one year, after that they have to be bought.
Only domains like .tk / .ml / .ga / .cf / .gq are available for free, TLD domains have to be purchased.
No one trusts domains like .tk / .ml / .ga / .cf / .gq, neither visitors nor search engines.
This can affect your SEO rank.
Most of the sites that provide free domains are not trustworthy.
To get TLD domain free, either you have to buy domain for more than 1 year or you have to buy it with hosting. Only then TLD domain will be available for free.
There is no guarantee that you will get support on the free domain service site.
Advantages and disadvantages of buying a domain
Advantages
By purchasing a domain name, you get a TLD domain. One who is trustworthy.
All search engines and visitors trust TLD domains, as well as your SEO rank also increases.
Fast speed is available and all trusted hosting sites can be easily added and removed like Hostinger.
In case of any problem, you can speak to the customer service, so that they will fix that problem.
There is complete control over the domain, there is no limit of any kind.
Doesn't get too expensive. 500 or 600 are available for the whole year.
Disadvantages
We have to pay for this.
You get it free for one year, then you have to renew it.
To get a free domain, you have to buy hosting along with it, only then the domain is available free.
Have to renew every time. That is, you will have to pay every year to use the domain.
I would also advise you never to take a free domain. If you are working on a blog or website or making a website for a client, then buy the domain from a trustworthy site like Hostinger.
If you want to test the site or make it temporarily for presentation or to show it in school / college, then you can use the free domain.
How to decide which domain name is best for website?
For this, first of all you have to think of a unique name for your website or blog, only then you will be able to easily get the domain of the site name.
Second, if possible, try that the name you have thought of should be short and of one word, so that it is easy to remember.
Try not to have any kind of number, hyphen ('-') or any other symbol in the name and if possible try to take TLD domain only.
Where to get domain for your own blog or website?
If you also want to create a website or a blog of your own, then you will also need a domain name for that. Now you must be wondering where to find a reliable domain name provider?
Below is a list of some reliable domain name providers from where you can buy domain names:
Hostinger (Cheapest domain and premium hosting provider)
GoDaddy (Cheap Domain name)
BlueHost
DreamHost
There are many other domain registrars and resellers around the world that we haven't listed, including Hover, Google Domains, Tucows, 1&1 Ionos, Shopify, eNom, Name.com, Namesilo, and more.
Because I tell only what I have used and give the best service. I have used Hostinger and it is the cheapest domain and premium hosting provider I have come across.
I would recommend you to buy domain name or hosting from Hostinger only. Because where other hosting site gives you one year hosting for 5000, it gives you hosting for 4 years at the same price and also gives one year free domain.
However, after one year you will have to renew the domain and after 4 years the hosting. Its best part is that if any problem comes which you cannot fix, then you can speak to their customer care, they will fix it for you.
Cheapest Domain and Premium Hosting Provider

After seeing the rating of Hostinger, then decide whether you should take its service or not. If you buy any service on Hostinger from the affiliate link given in this article, then I will get some commission from it and you will get a discount in the service.
If you like this information, then definitely share this article with your friends, family and social media and follow us on Facebook to stay connected with us and get the latest updates.