Already,I have a domain name now what? Well, congratulations! You are one step away from it becoming your brand and starting to produce. Here we will see step by step how to configure it so that it points to our website.
The first time I made a web page, the first thing I did was buy the domain and from there I didn't even know where to move.
The tutorials and guides that I saw on google seemed a bit complicated and very technical for a newbie like me.
Therefore, I decided to make this guide, so that if you are in a similar situation, you can create your website with that domain that you bought in the easiest way possible.
The domain name (example: youdomain.com) is nothing more than an address that has to point to a place where all the information on your website is stored, such as your photos, videos, text, etc. this place is called "server".
I Have a Domain Name Now What ?
I think you have bought a domain name .Once you have acquired the domain name, these are the following steps you have to do.
1. Get a Hosting Service
Think of hosting (or web hosting) as the owner of commercial premises (servers, which are nothing more than computers) where your web page will be "hosted" (files, videos, images, content, etc.)
When someone writes your domain name in their browser (example: chrome, safari or other), it is as if they were telling the browser that they want to "enter" the location of "yourpage.com".
The owners of these servers rent you that place (or space) for a monthly or annual amount.
What should I know about these hosting companies?
As with the metaphor of the owner of the premises, each shopping center is different.
Some have more space, individual or shared bathrooms, some have elevators, etc. and therefore, in all there are their pros and cons.
Hosting providers have similar hosting services, which I will explain below:
Shared Hosting : A server is used by multiple accounts that share resources (such as multiple tenants in a single location). this one is ideal for a new page, which does not need to use too many resources and does not have more than 20,000 visits per month, so it is always the cheapest.
VPS Hosting : Each user has private disk space (a local one) within a Server, but there are many things on the server that must still be shared with other users. It is suitable for a website with more than 30,000 visits per month and you want to offer services that require more resources.
Dedicated Hosting : A server is available exclusively to the user and you will need it when your website has more than 100,000 visits per month and you want to offer services that require a good amount of resources.
If you want to see my comparisons of different hosting services, you can see the following monthly Hosting and Annual Hosting articles and in summary, some of the most popular web hosting pages are the following:
DreamHost
You have probably already heard of this hosting service, since it is one of the most used for its affordable price and installation of WordPress with a click (which is the most used web creation program).
Its discounted cost starts from $2.59 per month, and is suitable for new websites and web design novices.
Its interface is very easy to use even if you don't know anything about creating web pages, hosting services, domains and stuff.
It's not as fast as Cloudways but it performs a bit better than Hostgator, so in my opinion it's an option to consider for hosting your first few websites.
HostGator
Hostgator is another of the most used hosting services for new websites, since it also has an affordable cost and WordPress installation with a single click.
Their prices start from $2.75 USD per month, with three-year billing, being a little more expensive than Dreamhost.
The downside of Hostgator is its performance, I think it's a bit slow even with little traffic, although if you're just starting out it's not a bad option.
Read More :HostGator Black Friday Deals 2022
Hostinger
Hostinger is a popular web hosting provider with a powerful platform for launching websites. They offer a variety of shared hosting plans for everyone from newbies to experienced large companies. Their prices are very affordable, and the plans have many useful features than other hosting companies.
Hostinger Shared Hosting Plants start from $1.99 which is so cheap hosting compared to others hosting. Hostinger Shared Hosting is the perfect hosting for the beginners.
Read More :Hostinger Review 2022-Best Web Hosting at Cheap Price For Beginners
Cloudways
Cloudways is a high-speed, state-of-the-art web hosting service, although it is a bit more expensive, since its prices start from $10 USD.
If your budget is limited, it is best to use a low-priced Hosting to start with and when your website has around 20,000 visits per month, switch to a hosting service like this.
If your website will be heavy from the beginning (such as an online store with many products) then I do recommend using Cloudways from the beginning, since it allows you to increase or decrease RAM memory month by month, so that on dates when you expect more traffic it will increase and may decrease in calmer times.
It is a very flexible hosting in that aspect and of which I leave you my complete review here with a guide to use it.
Buy the Hosting service
To contract the hosting service you only need to enter its official page, for this guide you can use any hosting, although as an example I will use Hostinger since it is the easiest and cheapest.
You can use the hosting you want and click on the " Register Now " button or the equivalent in your hosting service.
Go To Hostinger.com
Later, a screen will appear with the prices to choose the plan we want.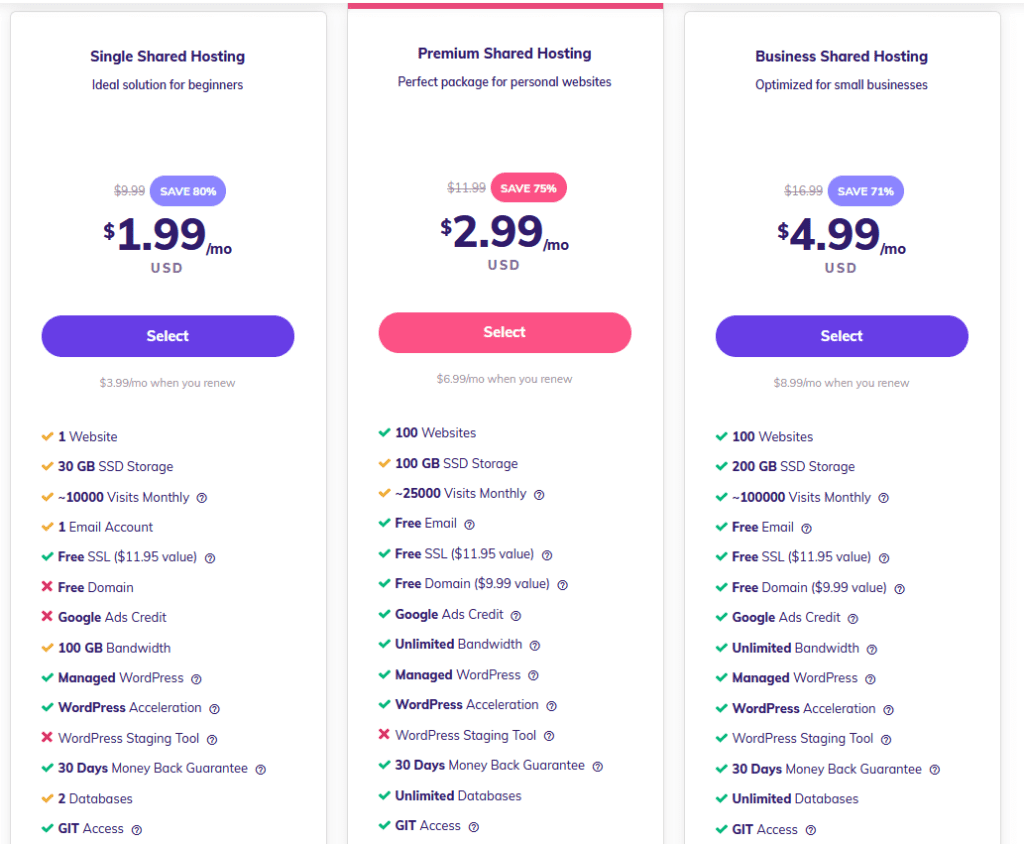 Above screenshot Hostinger offer three Shared Hosting plan such Single Shared Hosting Plan,Premium Shared Hosting Plan and Business Shared Hosting plan. I recommended for premium Shared hosting plan purchasing for 2 years to get discount.If you buy hosting for 2 years with using Pro Code: Siraz24.you will get additional 10% discount.
After Buying your Hosting Service from Hostinger. Now the time to Connect your domain with Hosting account.If you don't know how to add your domain Hostinger I will see you step step .
Connect Your Domain with Web Hosting Server
You need to login to your hosting server to connect your domain to your purchased hosting server.
After logging in to the hosting server you need to point or assign your domain.
Like I am buying hosting from Hostinger and domain from Godaddy. Now I am showing how to connect Godaddy domain to Hostinger.
But same process has to be followed for other hosting and domain companies.
Regardless of the hosting you use, your main task is to add or assign the domain hosting and copy the name server of your hosting to the domain name server point.
Let's show how I connect Godaddy domain to Hostinger. First, login to Hostinger. Then you may see the interface like below.
To point your domain name to your Hosting server, we are going to follow the steps that I mention below-
Get the name and IP of your server
Normally, your hosting provider must provide it to you in an email when you register or, failing that, you can go to the corresponding option on the website of your Hosting provider.
As we saw, for example, with Hostinger, it provides it to you with the following email:
In this case, the server names would basically be the ones that say ns1.dns-parking.com, ns2.dns-parking.com
Add the name server to your domain registrar.

Once you know the name and IP of the server, you must add it to the DNS of your domain.
To do so, you must enter the page of the company that registered your domain (for example, godaddy, namecheap, 1&1 etc.).
Once inside, look for an option that says "manage domain", "my domains" or something similar ( each registrar has its own menu, so I can't tell you exactly how it appears ).
For example, if you purchased your domain from Godaddy, on the Products page you can click the button that says manage as it appears here:
Later, there must be a button that says, DNS, Manage DNS, Nameservers as well as some option to change, modify or customize them (in namecheap, for example, it says customize).
You must click on advanced Button
Then a form should appear that allows you to enter server name 1, server name 2, server name 3 .
For example, if your domain is GoDaddy it will appear as follows:
As you can see, I only went where it allows me to change the nameservers and only copied and pasted the ones Hostinger sent me.
Putting above domain name server replace to Go Daddy Name Server and Update.
Step 3. Wait for the propagation and verify the access to the website.
Since you made that modification, wait a few minutes (maybe 10 or a little more) and type your domain name in an incognito window to try to enter your website.
Once this is done, you should be able to enter your website that way as seen in the following image:
In theory, DNS propagation takes up to 48 hours, so that everyone (or all computers) knows that entering your domain name should direct them to your hosting server, although sometimes it takes less time.
Step 4. Activate SSL to be able to edit the website:
Now, if we go back to our Hostinger account we will see your website

Your website will appear with a red padlock (not secure) and if you click on the little circle that says "WordPress" we will see that it will not allow us access, it will give us a security warning.
This is because we have to activate the free SSL certificate, for this, we will go to the right side where it says "security certificates" and we will see that it is "processing order".
A certificate takes a few hours to process, so for a while, go eat, sleep or have a coffee and come back after a few hours, until it appears like this:
Once you have the security certificate, you go to your websites and you will see that your website now appears as " secure " with a green padlock:
If by chance the padlock does not appear, click on the "SSL" button and then on "SSL certificate" and activate the one that says "free" called Let's Encrypt.

If it appears with a little box, you can click on the little button that says WordPress and it will take you directly to where you can edit your website in this way:
Step 5. Customize web page and add content:
Immediately after having logged in to WordPress, its interface will appear, which is the following screen:
Roughly speaking, what you see is the WordPress dashboard, which is used by almost everyone.
Most of the pages you see on the internet (including many well-known ones, even from governments) use WordPress, since it is a very flexible application and you find information everywhere.
You will save yourself a lot of headaches by using this app in the future, so do yourself a favor and don't use another CMS.
On the left side is the menu that has the options to add posts, appearance, multimedia files, users, themes, etc.
Change language (optional)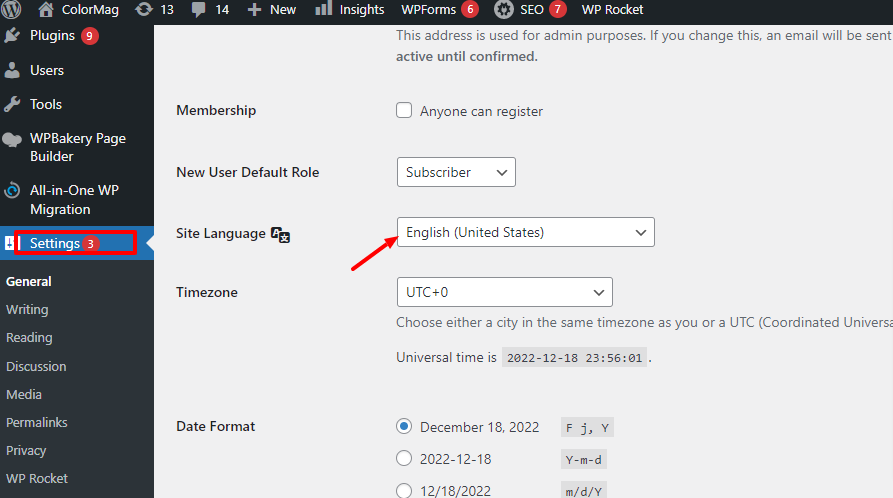 By clicking where it says SETTINGS / GENERAL, you can change the language if you don't know English:
To modify the appearance (including the theme) you can enter where it says Appearance / Customize and the following screen will appear (the theme may vary):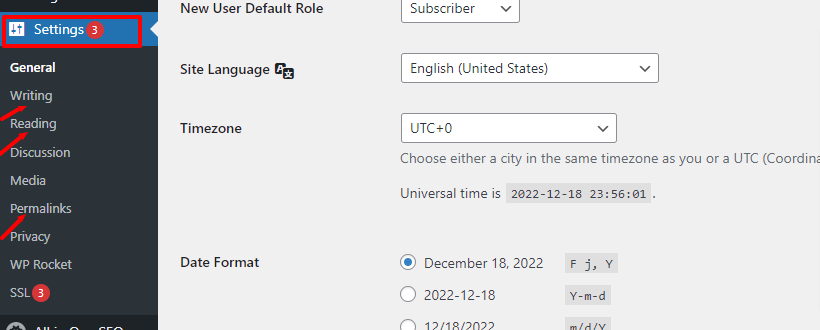 The options on the sides allow us to modify the identity of the site (such as adding our logo), modify the colors, theme options, put images, add items to the top menu and more features.
We can add posts, pages or portfolio in the menu on the right (within the desktop):
On this page you will see some posts in which I make various types of web pages (some are services, others are store-style)
Most of them have a similar workflow, in case you want something similar, any of them can work for you.
Step 6. Add other settings
With the above, it can be said that your web page is already created, however, it is important that we still conclude a few small things that are very important.
I will summarize them below but you can go into detail in this article , where I explain them step by step:
Activate and configure permalinks
Make an automatic backup of your website
Block spam comments
Activate the SSL security certificate
Connect your website with google analytics
Add your website to Google search console
I hope this article has been useful to you and encourages you to create your website.
Read More :