HostGator is truly a global web hosting company with presence all over the world. As such, the service you should expect from them is truly world-class service. They have proven over the years that they are a trusted and reliable web hosting service provider.
This is why more than 200,000 customers trust them and do business using their hosting services. They have a strong system to serve their customers.
For example, as of November 29, 2011, the company has engaged in approximately 5 million live chats with customers.
Generally, what you would expect from a web host is that they provide you with an efficient hosting service. Well, that's not the case with this HostGator website builder plan.
In addition to offering the usual web hosting services.
HostGator offers something different with website builder plans. The plan allows you to create your own website without the technical jargon associated with website creation.
Creating a website is one thing and figuring out where to host the website is one thing.
HostGator's website builder plan eliminates this headache by combining hosting with website building. For a company with an international presence like HostGator, this plan can be useful for their potential clients who are looking for such services.
However, we must analyze the plan to determine if it is really worth investing your time and money.
Gator Website Builder – What is it?
Hostgator's website builder Mainly name is Gator which is developed by HostGator.

Gator is a HostGator-hosted website builder offered by a popular, well-known hosting and domain name provider. With Gator, HostGator is now able to offer hosting, domain and software services in one convenient subscription.
Needless to say, unlike some website building software, Gator is a hosted solution that provides everything you need to get started, develop your site, and help it grow.
This is different from many other web building solutions that require you to purchase, install and manage different pieces of the website puzzle.
Rather than buying your own home, consider leasing a condo in Gator Beach. With it, you have complete freedom and control over furniture, decor and everything life-related.
However, infrastructure, plumbing, counter tops, and so on are left for the property owner to worry about, deal with, and ultimately control.
This is a key difference because you usually have to choose whether to give up the privilege or the control. Everything might work seamlessly and fit right in with Gator Website Builder, but depending on your skills or needs, it might not be your cup of tea.
As far as competitors go, Gator is in many ways similar to other all-inclusive site builders such as Squarespace, Wix, Weebly, GoCentral by GoDaddy, and to some extent WordPress.
However, Gator is more focused on speed and convenience, giving you everything you need to get your website up and running in under five minutes.
Not surprisingly, Gator appeals to non-developers with limited website experience or minimal time to fit and manage a bunch of pieces.
When Choosing a Website Builder – What You Need to Know
There are endless considerations to think about and account for when choosing a website builder. Because the structure of your website and how it's built can have many consequences, both good and bad, the website builder you choose can have a great impact on your bottom line.
A website builder may not cause or alleviate a ton of headaches in the moment, but it can also affect your online presence and ultimately the long-term viability of your brand.
That being said, just like choosing an office space or shopping for a home, there really is no "best" website builder. There are options that are best for your experience, needs and goals.
So, before you start comparing website builders like Gator, you should think about how you want your site to look, what you want to achieve with it, and the features you want it to have.
Do you want a blog section? How about an online store, contact form, reservation system etc.?
Once you're sure of what you want, you'll know right away whether Gator or another website builder is right for you.
Now with that out of the way, let's dig into Gator and see what it offers, or perhaps more importantly, what it doesn't.
What website to use Gator Website Builder for?
For which website to use HostGator Website Builder?Each website builder has its pros and cons. Gator is no exception – and it's suited differently to different types of websites. So, let's see how Gator tackles some of the major challenges.
Hostgator Website Builder for Online Stores
Gator is a great website builder if you want to start an online store and do it easily and cheaply. All its plans, including the cheapest one, have eCommerce functionality. It provides great marketing and business tools, allowing newbies to visualize and reach their goals.
However, some of the features on the cheapest plan are limited, and you will only be able to fully access them if you purchase the most expensive plan.
Expensive plans not only have zero transaction fees but also unlimited storage. Either way, you can read more about Gator's eCommerce functionality in the eCommerce section.
Gator Builder for business websites
Gator offers a great array of business features including eCommerce, analytics, social media integration and SEO. All of these are suitable for beginners, however, more experienced business people may find them a bit lacking – the integrated features are quite basic.
However, if you are looking for an easy and fast way to create a website, I recommend trying this builder, but not before you read the business section.
HostGator Website Builder for blogs
Adding and managing a blog is as easy as Gator Website Builder. The blogging interface is clean and concise, not to mention, there are tons of ways for you to customize how your blog posts look on your site by adding all kinds of media.
Not sold yet? Check out Gator's blogging section. Or, take a look at our list of the best website builders for blogging, maybe one will steal your heart.
HostGator website Builder for Portfolio Site
Gator is very easy to use and suitable for beginners. However, ease of use usually comes with a lack of design flexibility, and this is the case with Gator.
While there are plenty of elements to tweak and flip around to get the most out of this builder, it doesn't offer as much flexibility as other website builders on our list of best website builders for artists.
HostGator Website Builder Plans
As technology has advanced, highly technical things like building websites have become easier for anyone to do. 
That's what HostGator's website builder plan gives you, the ability to simply drag, drop and publish your site with the click of a button. Even a beginner will be surprised how easy and fast it is to create a new website.
One thing about the Website Builder plan is that there is a template for whatever type of site you want to build. These templates are also usually mobile friendly. The website builder plan has three different plans.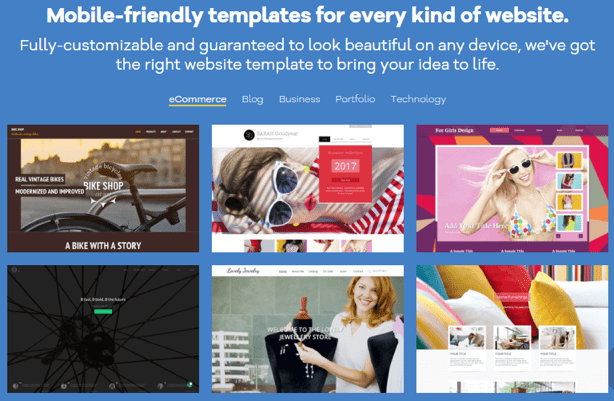 Starter Plan
This plan is good for those who are starting out as new website builders. The plan includes free hosting and domain name registration for 1 year, as well as customizable templates for your site.
A free SSL certificate comes with website analytics and drag and drop features as you build your site .The number of pages you can create is also unlimited .
You are not bothered by unnecessary ads. Plus, there's $200 worth of advertising vouchers
The Starter plan costs $3.84 per month.
Premium Plan
This plan includes everything the Starter plan has to offer with an added feature of priority support .That means your requests and questions are given more priority than the starter plan.
The premium plan costs $5.99 per month.
E-commerce plan
This plan is best for those who work online and in e-commerce stores. You are better equipped to handle the heavy traffic that comes with running an eCommerce store.
This plan includes everything that both the Starter and Premium plans have to offer, plus additional features like inventory management, shipping and tax calculators, as well as coupons.
The plan is billed at $9.22 per month.
Read :HostGator Black Friday Deals 2022
Pros of Using Gator Website Builder
After digging into HostGator's Gator website builder and testing it out, I'm happy to report plenty of pros with this comprehensive site building solution.
Quick and easy process
Arguably Gator's best feature is its quick and easy onboarding process, which is the industry language for getting your website builder software up and running.
With most site builders, there's almost always at least one point that makes you question what to do next. This is not the case with Gator.
In fact, Gator makes onboarding easy, simple and fast. In a few simple steps, you can choose a plan, choose a domain name, select a website theme, and publish it live on the Internet for anyone and everyone to see.
To make things even easier, Gator provides an in-depth tutorial to walk you through the various customization options. It educates you throughout the site building process through an informative email drip sequence.
Total website solution
Unlike many other site builders, Gator is a truly comprehensive and complete website building solution. From domain registration and hosting to RSS feeds and social media integration, everything is included in its all-inclusive platform.
In other words, everything seems to work fine. No work with HTML, CSS, JavaScript, or any type of code. There is no attempt to extract compatible apps or extensions.
No troubleshooting or support required. The platform also offers tracking and analytics.
This means less time on details and more time on content, marketing, design and what matters most.
Plus, because Gator is directly connected to one of the largest and most trusted hosting providers (owned by EIG), it lets you tap into DNS and domain support, unlimited storage, self-hosting options, and more.
Template options
When you use Gator to build your website, you'll need to pick a template to start designing your site. The good news is that Gator offers hundreds of different template options to choose from.
While many of the templates look pretty, each can be customized and edited with Gator's drag-and-drop functionality. Of course, you can build a custom site on HostGator using any software and theme, but why would you?
Most people are attracted to Gator Website Builder's huge selection of excellent customizable templates. You can customize colors, add or remove sections, change fonts, and more with zero learning curve or additional cost of add-ons.
Step by step site building
Speaking of design, a huge benefits of using an all-inclusive website builder like Gator is the lack of skills or experience required for these platforms.
Instead of working with code like HTML or CSS and looking at line after line of letters, numbers and symbols, you simply point and click to build a website from scratch. It's as simple as that.
Despite offering a bevy of customization options, Gator is extremely easy to use. Thanks to its drag-and-drop functionality, anyone with little or no website building experience can do everything from customizing the theme to completely redesigning the site.
Not only does Gator offer a fast and easy-to-use interface, but it's also extremely intuitive and easy to see. Instead of seeing an endless array of options, it reveals progressively more options as you dive into each tool.
While it may seem simple at first, the further you go, the more power and customization possibilities it reveals.
Along the left rail, you'll see eight large icons for Pages, Elements, Design, Categories, Stores, Blogs, Manage, and Statistics.
When you tap or click on each, they open directly and display a menu with various sub-options.
For example, if you click the Elements icon, you'll see File, Map, Navigation, Text, Social, Video, Button, and PayPal options, and each of these has additional sub-options.
Gator lets you drag and drop any element you like onto any page, or you can click the plus sign to add a new section with any combination of elements and choose from a wide selection of layout options.
In addition to customizing the elements, Gator allows you to customize the overall design of the site. You can select "Design" from the right panel or click on the page you want to customize.
When you do this, you'll have access to a huge selection of color palettes and background textures. Other options include text animations, parallax backgrounds, flying or bouncing objects, and more.
If you ever find yourself going a little overboard with any of the customizations, you can always revert to the template defaults. Also, if you make a mistake editing a site, the "Undo" button is also ready to use. This is a nice feature that not all website builders offer.
Friendly features
Speaking of features, Gator Website Builder has them in spades. In fact, not only does it offer every basic feature you'd expect from a good website builder, but the folks at Hostgator have thrown in a few extra nice bonuses as well.
The most important features include:
• Connect social media accounts for each major social network
• Connect Google Analytics for added statistics
• Collect PayPal payments
• Setup page redirect
• View your save history and revert to an older website version
• View your form submissions and mailing lists
• Add basic SEO meta tags via "Advanced" option
Gator offers enough configuration options to meet the needs of most hobbyists or small businesses. Also, the built-in functionality to accept PayPal payments and collect email addresses is a nice touch.
While these capabilities are free with Gator, other site builders require the use of a separate tool, which incurs other additional costs and headaches.
Also included in every Gator Website Builder pricing plan are:
• Domain Name Registration – A domain name is the name of your website, eg 'mywebsitename.com'. Buying a domain instead of going elsewhere will save you both time and money.
• SSL Certification – SSL certificate ensures the security of your website from hackers or unwanted content. With an SSL certificate, your site will have a padlock icon next to the URL, letting visitors know that your site is secure.
Without one, it will instead say 'not secure' next to the URL, which can prevent visitors from staying on your site.
You don't have to design a separate version of your mobile site on your site will save you time and money.

• Social Media Integration – Social media integration allows you to embed content from Facebook, Instagram, and Twitter into your site. Social buttons, image galleries and live feeds will improve consistency by connecting all the different aspects of your online presence.
• Mobile Responsive Templates – More and more people are browsing online through mobile devices, making mobile responsiveness essential in today's day and age.
Mobile responsiveness gives you the ability to automatically adjust your webpages to fit seamlessly on smartphone screens. No need to design a separate mobile-friendly version of your site. The result will save you both time and money.
• Website Analytics – Website analytics allows you to view important statistics and track important information, such as how many visitors your site is getting and how long they stay on each page.
By tracking these stats, you'll be able to see which pages are performing best and make small changes to improve traffic, dwell time, and conversions.
Now that we have those bases covered, let's jump into those cool bonus features we mentioned earlier. Since HostGator is a top hosting provider, it offers unlimited storage and bandwidth to its Gator website builder customers.
Yes you are correct. There is no limit to the number of visitors or how much content your site can handle This makes Gator an ideal choice for any site with large image galleries and heavy traffic statistics.
E-commerce website ready
You might have thought Gator was just for basic websites? Think again. Gator's 'eCommerce' plan is designed for just that.
With it, you can sell products, process payments and track all your statistics through a powerful analytics suite.
While there are several e-commerce options to choose from, Gator is a tough choice. It allows you to extend your site with a user-friendly web store that supports both digital products and physical products.
You can even import product catalog using Excel, CSV, Ecwid and Google Sheets to gator making ecommerce website.
If you have more modest ambitions and fewer products to sell, there's always the option of manually inputting the data.
Unfortunately, Gator Website Builder doesn't offer much control in terms of how the products are displayed. The product description is also a little basic, but that shouldn't be a problem for a simple site.
You start by dragging and dropping one or more images, pasting some formatted text, and entering a price. Then, you can set product variants to display different sizes and colors.
You can organize products into categories like jeans or shirts for an easier shopping experience.
Gator allows you to setup discounts, a nice touch that's sure to appeal to customers. With the ability to automatically calculate shipping rates by weight, there's not much it doesn't do.
That being said, Gator Website Builder doesn't even begin to compete with the power of specialized e-commerce solutions like WooCommerce and Shopify. However, Gator is much cheaper and undoubtedly easier to use.
In fact, with Gator you can manually add a dozen or so products in under 10 minutes. With tax and shipping calculations, PayPal integration, Stripe card support, and a cash on delivery option, it's a good choice for creating a simple web store.
Reporting and Analysis
The stats and analytics on Gator's site are surprisingly impressive. You can see total visits to your site, number of page views, bounce rate and all unique visitors for the last 30 days directly from your account dashboard.
If you open the Full Traffic page, you'll see additional statistics such as average time spent on site and a map showing geographic visitor data.
There's also a breakdown of each page to see how your site is doing at the page level, and more visitor details, such as the browser and device used, visitor language, and whether a visitor is returning for the first time.
Gator's analytics separate the traffic your site receives into desktop and mobile segments, providing valuable intel for paid traffic campaigns.
Help and support
HostGator is known for its friendly support staff. So, it's not surprising that with Gator Website Builder, you'll have access to 24/7 live chat, email, and phone support.
In addition to these support options, Gator also offers a convenient help center. However, it is quite basic and not ideal for complex search queries.
Although Hostgator's support is top notch and you can get help in a variety of ways, just remember how big the company is.
With tens of thousands of customers, the support staff is quite busy with requests, so it may take some time before getting a response.
Nevertheless, you can enjoy instant priority access to support staff by signing up for any plan in the mid-range or above. It's like buying a "fast pass" to an amusement park – you can pay more, but there's no need to waste time waiting in line.
That being said, thanks to Gator's user-friendly interface and intuitive design, you'll never need any help or assistance. However, if you ever need a helping hand, it's nice to know you have access to 24/7 support.
Cons of using Gator Website Builder
As you can see, the Gator platform has a lot to offer. However, no software is without its flaws. Let's take a look at some of the pitfalls I found with Gator Website Builder.
Lack of adequate apps, extensions and marketing
While Gator's all-inclusive site building platform is a solid choice for website owners concerned with convenience and ease of use, it lacks advanced marketing tools and support for third-party apps and extensions.
True, Gator offers some apps and extensions, but not many and they are limited in their functionality. Additionally, there is no way to modify sections of code, which limits your ability to add several advanced marketing tools.
Again, with Gator Website Builder, you choose the convenience of control. It's super easy to use and works great, but you have to make some sacrifices in terms of control and customization.
For some, this is a tradeoff worth making. For others, it may not be.
Price structure
Yes, believe it or not, Gator pricing is both an advantage and a drawback. Let me explain. While its price options are higher than the competition, they are also a bit confusing.
For example, the 50 percent off promotion, which is obviously pretty cool, is only good for the payment period. So, if you lock in the premium "eCommerce" plan for two years, the price will go up after two years.
The domain with marketing apps upsell is also somewhat complex and confusing. At checkout, it looks like you must buy a domain name. However, you can purchase a domain separately and use a subdomain if you choose.
This is one of the few upsells you'll encounter during the checkout process. Fortunately, despite this, the onboarding process is still relatively easy and smooth.
Blog integration
Gator offers a blog integration add-on that you can include on your site, but it's not part of your chosen theme. Instead, you must design the blog separately and select how you want it to look.
While it's nice to be able to customize how your blog looks and feels, choosing a separate theme creates a disjointed feel. Instead of blending seamlessly with the site, it makes the blog feel like a secondary feature
Therefore, if you want to build a website just for blogging or plan to make a blog an important feature of your site, Gator Website Builder may not be for you.
Summary
Overall, the website building plan is a worthwhile investment of time and money. The plan is feature-rich to meet just about anything you need to build the site you want. 
Each plan is tailored to the needs and requirements of different customers. The plan that you finally opt for now depends on your budget and requirements. 
However, we hope that with this review you will have more than enough information to make an informed decision about the type of plan that best fits your schedule.