If you are looking for a new Cloud web hosting service, HostGator Cloud Hosting is an option that will fall on your radar. It is a reputable company in the web hosting industry.In this post ,we wrote in depth HostGator Cloud Hosting Review 2023
Like most web hosts, HostGator offers a wide range of plans, options, and hosting types to meet the needs of different websites.
Monthly at $4.95
Free domain and SSL certificate
45 Day Money Back Guarantee
Cloud hosting is just a different place for your website, compared to other more traditional types of web hosting. Rather than hosting your website on a local server, it's hosted on multiple remote servers (in the cloud, to use a tired expression).
One of the main advantages of cloud hosting is the ability to scale on demand. This makes it a great option for fast-growing websites with high traffic volumes.
If cloud hosting is right for you, read on to learn everything you need to know about HostGator Cloud. I've covered their plans, pricing, benefits, and everything you need to know to determine if this solution is right for you.
Read :HostGator Black Friday Deals 2023
Benefits of HostGator Cloud Web Hosting
Hostgator Cloud Hosting has many benefits which are described below –
High uptimes and fast loading times
When measuring the performance of a web hosting service, uptime and page load speed are two of the most important metrics to consider. Let's take a look at how a HostGator cloud hosting test website has performed so far this year.
Over the past six months, HostGator Cloud has posted an average uptime rate of 99.995%. That's about as exceptional as it gets.
As you can see from the chart above, page load speeds fluctuate significantly so far this year. The fastest average monthly response time was 246ms, while the slowest was 736ms. But on average, the response time in 2021 is 514 ms.

Truth be told, it's definitely not the fastest loading time we've seen. But that said, it's still very fast, and far from being the slowest.
Based on these numbers, I can't say that you will be disappointed with your uptime or loading speed if you decide to go with a cloud hosting plan from HostGator.
User-friendly
HostGator Cloud Hosting is very easy to use. This is a great option for newbies, as well as more experienced web hosting users.
HostGator Cloud Hosting plans allow you to allocate your resources as needed whenever you encounter traffic spikes. This is not the case with their other plans, which would force you to upgrade when you hit resource limits.
Even if you've never done it before, the interface is very easy to manage.
Another reason why HostGator Cloud Hosting is so user-friendly is that you won't have to worry about sky-high prices. These plans don't surprise you with monthly overage fees when you go over your plan limits. This is a major drawback of other web hosting plans.
Many Gifts :Integrated Caching, Data Monitoring, Server Resource Management, and Automated Failover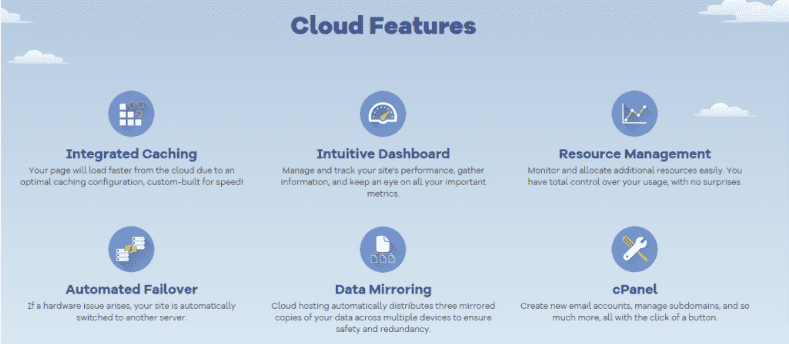 The reason HostGator's cloud hosting is so fast is that it doesn't rely on typical servers. Instead, servers in remote data centers work in unison with a person's web browser to limit the number of resources required to host the website.
Things like managed cloud resources, data mirroring, and built-in caching make this possible, which is free with your cloud hosting plan.
Plus, you'll get free server monitoring to alert you to any hardware issues.
When you sign up for HostGator cloud Hosting, you will also have access to cPannel. As I said before, you will get a free migration if you use cPannel with your current host.
Easily access to customer support
HostGator Cloud Hosting comes with 24/7/365 customer support, which is crucial for web hosting. My favorite part about it is their support portal.
Rather than having to pick up the phone or chat online, chances are you'll find the answer to your question here.
Here's a sample tutorial that explains the step-by-step process for adding resources to your cloud hosting plan.
HostGator has tons for almost every aspect of cloud hosting. This is a quick way to find a solution to your problem.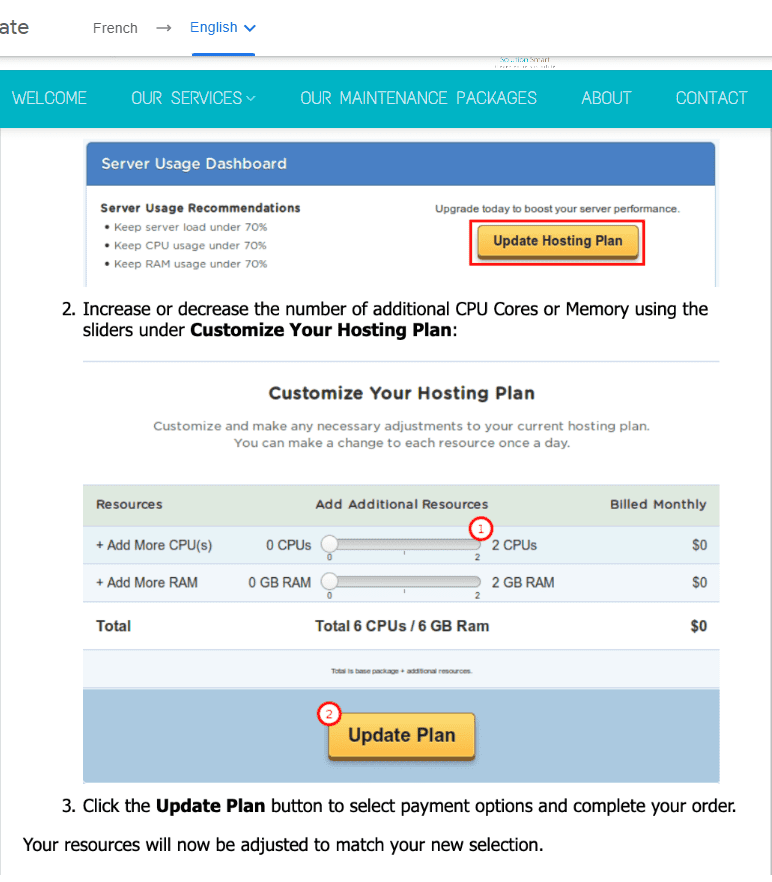 That said, phone support and live chat are also still available. Personally, I prefer live chat to picking up the phone. But you will have both options depending on your personal preferences.
Other Considerations
Based on the benefits we just discussed, I think we've established that HostGator Cloud Hosting is a top choice to consider if you want to use cloud hosting. But that said, there are a few things you need to keep in mind before making this decision.
I briefly touched on this earlier when we discussed cloud hosting plans, but the initial prices are just introductory offers. When your contract is renewed, you will pay more.
Depending on your plan, you can expect prices to increase by around 80%.
While HostGator has its fair share of freebies, there are also upsells along the way. Some of them are automatically checked off in your cart, so be sure to review this page carefully before committing to anything.
HostGator Cloud Web Hosting Plans
HostGator typically offers three cloud hosting plans. The cloud uses high-end hardware, low-density servers, and multiple layers for caching. As a result, it speeds up your page load times.
As your traffic grows, HostGator Cloud Hosting plans allow you to scale your resources with the click of a button on demand. All of this happens without any downtime, reboots or data migration.
Whichever plan you choose, you'll have access to HostGator's intuitive dashboard. From here, you will be able to monitor all metrics related to your website's performance.
This is what you will use to allocate additional resources accordingly. Basically, you have full control over your usage with HostGator Cloud.
Let's take a look at each individual cloud hosting plan.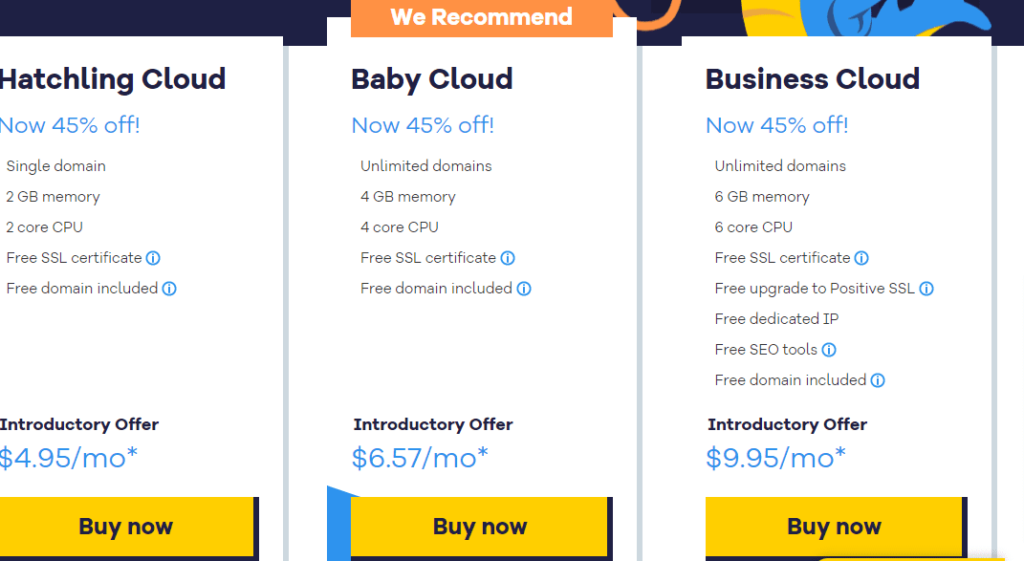 Hatchling Cloud
The Hatchling Cloud is HostGator's entry-level cloud hosting plan. It is designed to host a domain and has 2 GB of RAM.
Like all cloud hosting plans, the Hostgator Hatchling plan comes with a free domain name and free SSL certificate.
This plan starts at $4.95 per month as an introduction and costs you $8.95 per month when you renew.
have to pay
You can add SiteLock monitoring, CodeGuard site backups, business email, and HostGator SEO tools for an additional annual fee.
This plan is ideal for new websites that want to be hosted in the cloud. Although you can allocate new resources on demand, you'll probably want to upgrade as your total monthly traffic increases.
Baby Cloud

Here is a brief overview of what the Baby Cloud offers compared to the Hatchling.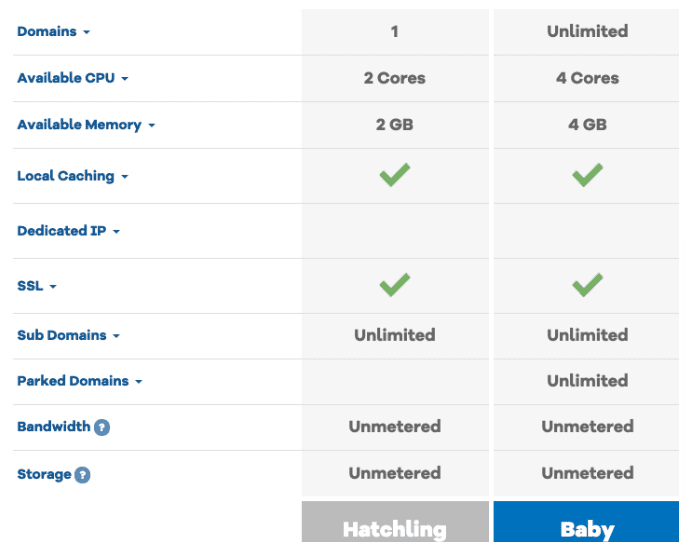 As you can see, the Baby Cloud Hosting plan can host unlimited domains, and has twice the CPU space available, and double the memory.
Pricing for new cloud customers is $7.95 per month, before renewal at $11.95 per month. Right now, they're offering a deal that lets you cut the introductory rate down to $6.57 per month, which is great value for money.
All you need to do is sign up and the discount will automatically be applied at checkout.
This is the most popular cloud hosting plan offered by HostGator.. I would say this will probably be the most suitable option for the majority of you.
Business cloud
The Business Cloud is HostGator's premier cloud hosting plan. Like Baby Cloud, you can host an unlimited number of domains on this single plan
However, the Business plan gives access to 6 cores, compared to only 2 or 4 cores on the Hatchling and Baby plans. Your HostGator Business Cloud plan has access to 6 GB of RAM.
It is the only cloud hosting plan that comes standard with a dedicated IP address. This feature is not available on the Hatchling plan and costs an additional $4 per month on the Baby Cloud plan.
Given that the Business Cloud starts at $9.95 per month, this added functionality is great value. However, it's worth noting that renewals climb up to $17.95 per month after your initial contract expires.
Disadvantages of using HostGator cloud hosting
Their overall performance was most impressive. However, they also have some downsides.
The main thing is, higher prices for short-term plans and higher renewal rates when your first term expires. After that, they removed some extra features and now you have to pay to get them.
Initial price increases and high renewal rates
You can save even more on their hosting if you know the right way to spot the common pricing plays that plague the industry.
You always pay for the introductory rate you see on the host's site. This is a lower price than the monthly price. If you want to avail this facility, you need to pre-pay for at least two or three years.
For example, HostGator cloud hosting costs $4.95/mo for 36 months and it renews at $8.95/mo.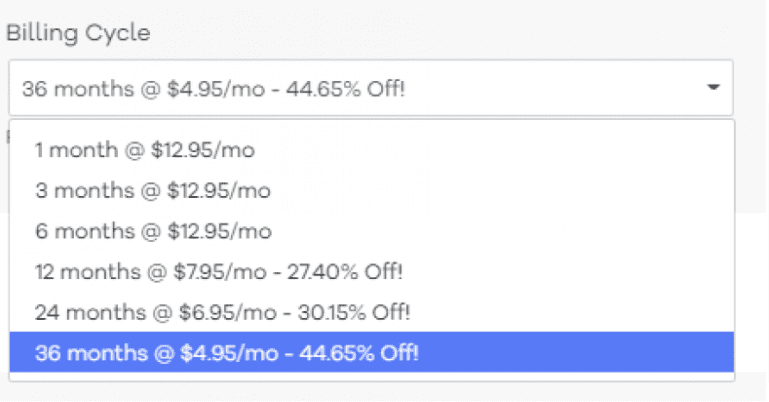 When you choose a perfect host, get as long as possible through the three-year rate.
But for what?
While pricing is the primary issue, monthly renewal rates outweigh that. When your current term expires, your plan will automatically renew for the same service at $8.95/month. You will get little or no improvement in your plan.
So, before choosing a hosting plan, you need to make sure that you are satisfied with the features and pay for the longest possible term to save even more.
Alternative Hostgator Hosting Options
Although the main focus of this review is the HostGator cloud Hosting, I would be doing you a disservice if I didn't mention the other hosting options offered by this provider.
HostGator Cloud hosting is not for everyone. So if you're looking for a more traditional type of web hosting plan, you might want to consider one of these options as an alternative.
Dedicated Server Hosting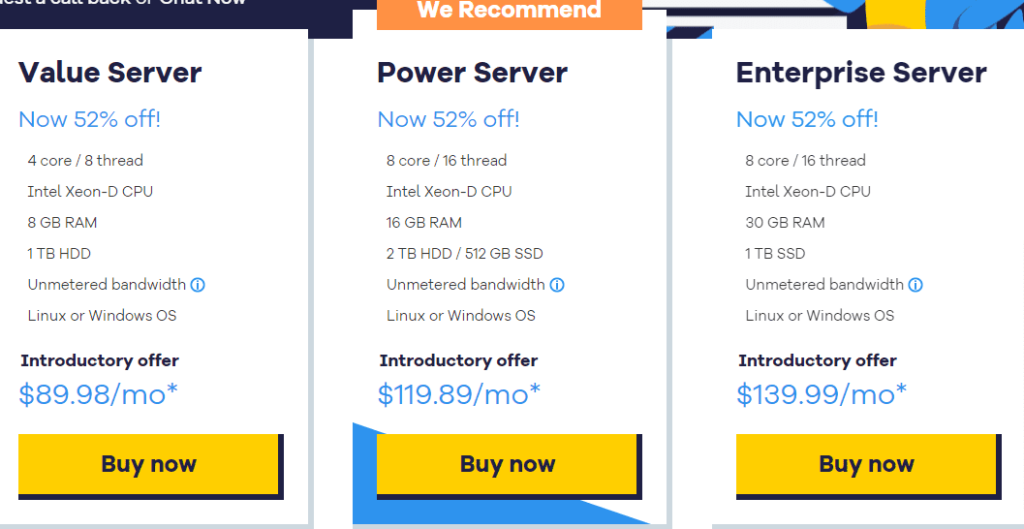 With a dedicated server, your website will rent a physical server from HostGator. This server will only be used for your site.
It is a faster option than shared hosting or VPS hosting because you don't share any resources, storage or bandwidth with other websites.
Dedicated servers are ideal for those of you who are a little more tech-savvy. If you want complete control over your server in terms of security and flexibility, this is your best bet.
HostGator Dedicated Server pricing starts at:
$89.98 per month for Value Server
$119.89 per month for Power Server
$139.99 per month for Enterprise Server
Compared to cloud hosting plans, these dedicated servers are more expensive.
HostGator VPS Hosting
HostGator's virtual private servers give you flexible software options. You'll get full root access, giving you more control over your environment.
HostGator VPS plans are a step up from shared hosting, but not as in-depth or expensive as dedicated servers. For comparison, let's take a look at the price of these VPS plans, so you can evaluate them as an option over cloud hosting.
Snappy 2000 — $23.95 per month
Snappy 4000 — $34.95 per month
Snappy 8000 — $59.95 per month
Shared Hosting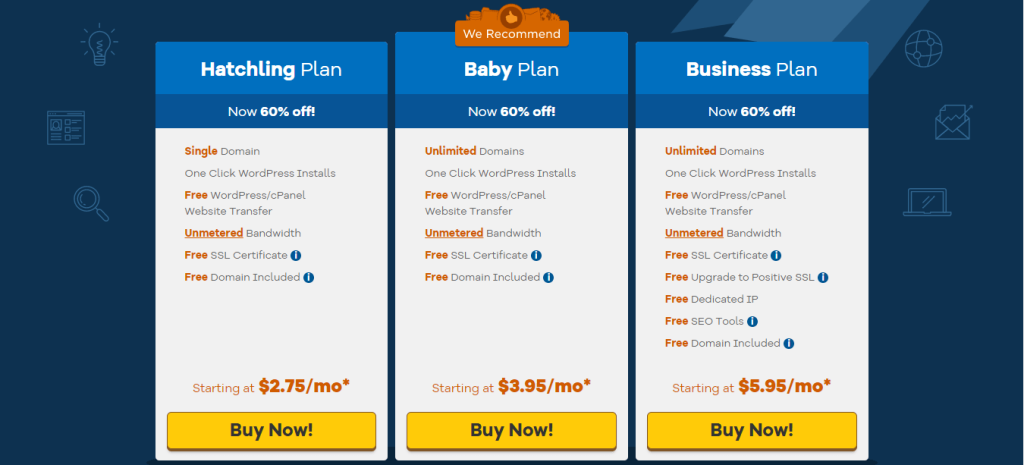 If you're on a budget and don't want to use the cloud, shared hosting is the lower tier plan offered by HostGator.
The plans start at $2.75 per month, $3.95 per month, and $5.95 per month, respectively.
The problem with this option is that you will be sharing resources with other websites. So if these sites have traffic spikes or higher visitor volumes, that will also impact your site metrics.
So, if you want to save money, but don't want to sacrifice performance, cloud hosting will be a better option for you. Shared hosting does not give you the flexibility to manage your resources like cloud hosting does.
Do we recommend Hostgator cloud hosting?
Yes, we recommend Hostgator cloud hosting, because they are handling a few things well. You will get user-friendly customer support from them. Apart from this, you can get a good uptime and page loading performance, which is not available on other hosts.
Their customer service is also very good. Apart from the extra fees and huge renewal rates, this plan is also discounted as their shared options make it a perfect hosting solution.
FAQ – Hostgator Cloud Hosting Review 2022
What is Hostgator cloud hosting?
Hostgator is an advanced version of cloud hosting shared hosting option. You get many benefits with this plan that you won't get with other web hosting services.
Cloud hosting collects information from multiple virtual server instances of physical servers. HostGator cloud hosting is well known for its flexibility, reliability, and scalability. These factors make it a perfect choice for businesses and websites that depend on fast loading times regardless of high traffic from sales or promotions.
Is cloud hosting better?
Cloud hosting is the best option available with Hostgator. It's the only option that offers a lot of additional features for free, even on the cheapest plans available.
When should you use cloud hosting?
This cloud plan is best suited for organizations that need near-perfect uptime and want to grow their servers without latency. This will give you great security and very fast site performance.
Does Hostgator have staging?
Yes, Hostgator has a staging feature. You can make changes without fear of deleting or breaking your current website as it will not be visible to the public.
Why Hostgator Cloud Hosting?
Since 2002, many web professionals and companies have trusted their services. With HostGator, you get everything like domains, hosting, and website building tools all in one place. Plus, you get unlimited email addresses, bandwidth, and storage with any plan. You also get a free site migration for your website.
How secure is cloud hosting?
Cloud hosting will automatically create multiple copies of your data and distribute it across multiple devices to provide security and redundancy. They also have many security measures to protect your site. Their data centers are built with state-of-the-art technology and are monitored 24/7 in a highly secure environment.
How reliable is cloud hosting?
With cloud hosts, you'll virtually utilize the resources of multiple servers while protecting yourself from a single physical server being overwhelmed or damaged. They have a built-in part that will automatically switch you to another server if your server experiences hardware issues or overloads.
Why cloud vs shared web hosting?
With cloud servers, you can use the resources of multiple servers without being limited to a single server, which is not available with shared web hosting. You have access to unlimited expansion and growth of your site by easily monitoring and adding additional resources. This way you have maximum control over its use without interruption.
Conclusion
HostGator is a good web hosting place based on our cloud hosting reviews. If you want more benefits, you can get cloud hosting plans.
If you compare this plan with other options, it is the best hosting solution. However, you can also opt for a HostGator dedicated server or VPS hosting.
We hope this article has helped you.